Singapore stock exchange to end lunch break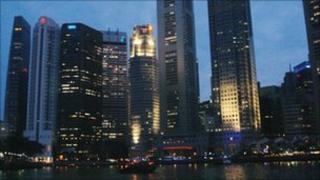 Singapore's stock market, the Singapore Exchange or SGX, is to scrap its lunch break and introduce continuous all-day trading from March.
Currently the bourse operates a lunch break between 12.30 and 2pm.
The move comes as Singapore tries to keep pace with competition from rival Asian exchanges over increasing trading volumes in the region.
Singapore Exchange is Asia's second largest listed bourse operator, after Hong Kong Exchanges and Clearing.
"SGX trading hours will therefore overlap more with those of other Asian exchanges, allowing investors who trade pan-Asian securities to respond to regional market movements and news flow," the firm said in a statement.
The Tokyo Stock Exchange recently announced that it would reduce its lunch break to an hour, cutting it by 30 minutes, and Hong Kong Exchanges & Clearing said it would reduce its two-hour lunch break by 30 minutes.