Comet knocks Kesa Electricals Christmas sales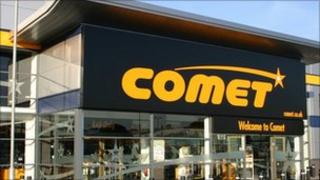 Comet owner Kesa Electricals has reported a drop in sales due to "softer trading" at the UK chain caused in part by bad weather.
Like-for-like sales across the group, which also owns Darty France, fell by 4% between 1 November and 18 January, with sales at Comet down 7.3%.
Full year pre-tax profits would be ahead of last year, but at the lower end of expectations, the group said.
Shares in Kesa tumbled almost 10% to end the day at 136p.
Like-for-like sales at Darty fell 1.8%, while total group sales were down 1.6%.
Despite the fall in like-for-like sales, which strip out the impact of sales at new stores, online sales across the group rose by 11%.
And despite the sharp fall in Comet sales for the period, the UK chain posted "record trading between Boxing Day and New Year," Kesa said.
The company also said it had agreed a new credit facility worth 455m euros ($613m; £383m) on improved terms.
This would reduce interest payments by about 500,000 euros in the current financial year, and by about 3m euros in subsequent years, it estimated.
"Against a background of increased competitiveness, Darty France and the other established businesses delivered a robust performance, offset by softer trading at Comet and the developing businesses," said Kesa's chief executive Thierry Falque-Pierrotin.
"We remain confident in our strategy and committed to our plans to implement the Darty concept in all our markets and we have in place a number of additional measures to improve revenue and reduce costs."