US housebuilding: Rate falls to near 50-year low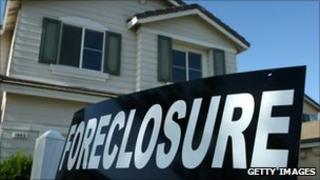 The number of new homes being built in the US has fallen faster than expected, underlining concerns about the strength of America's economic recovery.
Building work on new properties dropped to an annual rate of 529,000, according to figures for December from the US Department of Commerce.
That is down from November's annual rate of 553,000, and below economists' forecasts of about 550,000.
December marked the second lowest build rate since records began in 1959.
Analysts said that the severe winter weather in parts of America might have contributed to the fall.
Jennifer Lee, senior economist at BMO Capital Markets, described the housing report as "very disappointing".
America's economy grew 2.6% in the third quarter, but unemployment remains high and the number of foreclosures has forced down prices and made it difficult for builders to make a profit on new-builds.
According to the National Association of Home Builders, each new property built in America creates on average three jobs for a year and generates about $90,000 in taxes.
There was, however, one sign of optimism in the commerce department data. The number of building permits granted has soared, although this is no guarantee that properties will be built.