UK builders facing 'another tough year'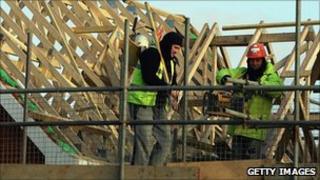 Small and medium-sized builders in the UK are facing their fourth consecutive year of recession, according to the Federation of Master Builders (FMB).
One-third of builders are expecting to cut staff over the next 12 months as output continues to fall, it said.
Government cuts are making matters worse, it added, with more than half of builders reporting a fall in public repair and maintenance work.
The rise in VAT will also cost 7,500 jobs in the sector, it forecast.
The FMB added that cuts to social housing are also having a big impact on its members.
"Two-and-a-half thousand construction firms went under last year and the Construction Products Association has said it expects no growth at all in this sector until 2013," Richard Threlfall, UK head of building and construction at KPMG, told the BBC.
"This is a market that is in deep, deep trouble."
He said the VAT rise, increases in costs of materials due to rising commodity prices, and government cuts were all hitting builders hard.
'Godsend'
However, Mr Threlfall said growth would return to the industry.
This would come from the waste sector, the government's Green Deal and underlying demand for social housing.
The Green Deal, which is designed to help people make their homes more energy efficient, would "be a godsend to the small builder industry", said Mr Threlfall.
And the fact that there are five million people on the waiting list for social housing means that demand will pick up, he added.
Big building companies have been able to recover far more quickly from the downturn.
Earlier this week, Bovis Homes said it would resume dividend payments after "significant improvements" in profits in 2010.
Last week, Persimmon said it was expecting strong profits for last year after turnover rose by 10%.