EU investigating carbon trading thefts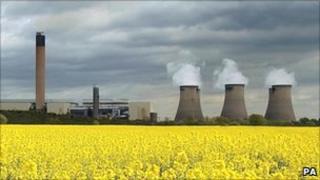 All carbon trading in Europe has been halted as the European Commission looks into thefts of emissions permits.
The Czech carbon registry said 7m euros (£5.9m, $9.4m) of permits had seemingly been stolen by hackers on Wednesday.
It followed a similar security breach in Austria on Tuesday, and prompted five countries to suspend their registries before the entire system was shut down.
A Commission spokesman did not rule out the possibility of deliberate sabotage.
'Speechless'
"For us at this stage, it is theft, not sabotage," said EU spokesperson Maria Kokkonen. "It could be possible that it is concerted action, because the recent incidents, they happened within the last five days."
The European Union (EU) has pioneered the market, which allows manufacturers, power companies and other producers of carbon dioxide to buy and sell Europe-wide emissions permits.
The permits allow the companies that own them to produce greenhouse gas, and by issuing a fixed number of permits, the EU hopes to cap overall emissions.
The theft is thought to have involved a phishing scam, whereby fraudsters stole password details by creating a bogus websites or messages that mimic legitimate ones.
They then would have accessed the account of the victim company, and transferred the permits into their own account, with the intention of selling them in the open market for cash.
"I'm a bit speechless about the negligence some member states have been showing," said Jos Delbeke, a senior Commission official for the environment, adding that it was too early to say what the scale of the thefts may be.
Originally the market closure was planned for a week, but Ms Kokkonen indicated that individual EU member states will reopen their national registries once they have demonstrated that they have improved their security measures.
The permits stolen from the Czech registry are thought to have been transferred to an account in Estonia - one of the first countries to shut their own registry on Wednesday.
The Commission also hopes that by shutting down the entire market, they may be able to trace the stolen permits.
Bad publicity
"It seems like they've been a bit slow to react," a trader in London told the BBC.
He claimed his desk had already stopped trading permits for immediate delivery on Monday because of market rumours that some certificates had been phished.
But the suspension of trading should have no practical impact on the market, he said.
Trading in futures and other derivatives can continue, while the delivery of the underlying carbon permits can be done once the market freeze has been lifted.
What is of more concern is the embarrassment factor of "another negative headline for the market", he said.
It follows a previous scandal in which carbon permits were used as a convenient tool to facilitate a cross-border VAT fraud scheme.