Barclays may cut 1,000 jobs as bank is hit with fine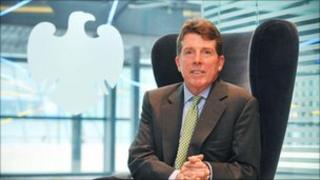 Barclays Bank is closing its branch-based financial advice service, putting 1,000 jobs at risk.
The company said that the service had become less commercially viable.
Last week, Barclays was fined £7.7m for failings in the advice it gave to customers, but the bank said the two issues were unrelated.
Meanwhile, the Financial Services Authority has handed Barclays a second fine, of £1.1m, this time for breaching rules on handling client money.
'No link'
The bank said in a statement that the decision to close the High Street advice operation "reflects the emerging trend that customers are increasingly purchasing and managing their investments online".
It is in consultation with the Unite union over the job losses.
On 19 January, the FSA announced that it had fined Barclays £7.7m because it sold investments to customers that were completely unsuitable.
The bank faces paying up to £60m in compensation to the customers.
Barclays said on Wednesday that "there is no link whatsoever" between the fine and the decisions to close the advice service.
'Serious breach'
In a further embarrassment, Barclays has received another FSA fine, for failing to ring-fence client money in one of its accounts for more than eight years.
The £1.12m fine was slapped on Barclays Capital Securities (BarCap), headed at the time by Bob Diamond, the new chief executive of Barclays Bank.
The FSA's managing director of enforcement and financial crime, Margaret Cole, said BarCap had committed a "serious breach", because the deposits would have been a risk if the firm had gone bust.
A BarCap statement said: "We have worked constructively and in full co-operation with the FSA throughout the investigation. The segregation error was corrected on discovery.
"No counterparties, clients, or financial reports were affected and Barclays Capital did not profit in any way," the statement said.
In June, the regulator fined investment bank JP Morgan £33.3m - a UK record - for a similar offence.