Microsoft profits flat despite strong Kinect sales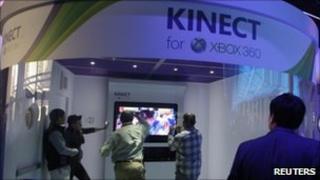 Microsoft's profits for the last three months of 2010 were barely changed, despite the popularity of its Kinect controller and strong sales of Office 2010 to businesses.
Net income was $6.63bn (£4.18bn), down from $6.66bn in 2009.
Sales in the Windows division fell 30% because of the launch of Windows 7 in the corresponding quarter of 2009.
The results were better than expected, as analysts had predicted weak PC sales would hit Microsoft harder.
"The 8 million units of Kinect sensors sold in just 60 days far exceeded our expectations," said Peter Klein, Microsoft's chief financial officer.
Analysts said that people were also buying Xbox 360 consoles - with which the Kinect controllers work - as well as games faster than had been expected.
Early release
The company's results leaked an hour before they were due to be released and its shares ended the day up 0.3%.
A company called Selerity sent the information to some investors and later claimed it had found the report early because Microsoft uses a similar web address for earnings every quarter.
As a result, Microsoft released its earnings a few minutes before the market closed.
It described the leaked report as a "preproduction draft" of its earnings.
The division that sells Office software reported a 24% increase in its revenue to $6bn as companies that had cut back on software spending during the recession upgraded their systems.
It also said sales of the software to consumers had been improved by the strategy of installing free but limited versions of Office on new computers and then allowing customers to download upgrades instead of having to buy a boxed version.