Egypt unrest hits Europe's stock markets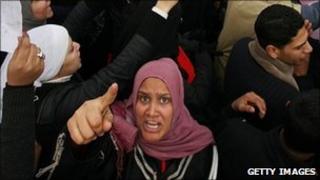 Concerns that the unrest in Egypt could spread have knocked some European stock markets, with shares in travel firms taking a hit.
In London, shares in Thomas Cook fell 3%, Thomson Holidays owner TUI Travel shed 2.6%, while the new BA/Iberia airline group IAG dropped 1.8%.
The uncertainty also pushed the oil price above $100 a barrel in London.
Meanwhile rating agency Moody's has cut its debt rating for Egypt, and changed its outlook from stable to negative.
It downgraded the country's debt rating one notch from Ba1 to Ba2.
Moody's said the cut was "prompted by the recent significant rise in political event risk and concern that the policy response could undermine Egypt's already weak public finances" - with the suggestion that the government may offer generous subsidies to try and appease protesters.
Thousands of Egyptian protesters have continued to take to the streets, calling for President Hosni Mubarak to step down.
Political risk
London's FTSE 100 and Germany's Dax index closed lower, though in France the Cac-40 shook off earlier losses to finish ahead, while US markets also made slight gains.
Earlier, Asian stock markets had closed lower. South Korea's Kospi index fell 1.8% to 2,069.73.
"Korea and many of the Asian markets are still classified as emerging markets and this shock in the Middle East is something that would tend to make investors wary of the political risk of emerging markets," Hank Morris, an adviser to Triple A Partners in Seoul told the BBC World Service.
"So I imagine that a good bit of today's retreats in the market in Korea could be ascribed to caution on the part of global investors who put in 'sell' orders across the board."
The Cairo Stock Exchange itself was closed on Monday for the third straight day. Banks and most businesses in the city have also been closed.
But Simon Kitchen, a strategist with the investment bank EFG Hermes in Cairo, was confident it would only be "a matter of days" before he was back at work.
Suez fears
Last Updated at 23 Mar 2018, 21:30 GMT
*Chart shows local time
price
change
%
70.33

+

+1.42

+

+2.06
Meanwhile, the price of Brent crude oil topped $101 a barrel on Monday, pushed higher by fears that supplies could be disrupted if the protests led to the closure of the Suez Canal, which connects Europe and Asia.
Brent rose $1.66 to $101.08 a barrel in afternoon trading before falling back to $100.78.
US light crude also rose $2.20 to $91.54 - having traded as high as $91.75.
Earlier, they had temporarily fallen back after the head of the oil producers' group Opec said he did not expect the turmoil in Egypt to affect the canal.
And a canal official told state media that the waterway was functioning at full capacity.
More than 4 million barrels of crude oil a day are shipped through the canal or an adjacent pipeline.
On Friday, shares in shipping companies rose, when worries over the Suez Canal began to emerge.
Its closure would mean ships would have to travel around the southern tip of Africa, adding thousands of miles to their journeys, and traders speculated that the tanker owners would be able to charge accordingly.
Shares in Frontline, one of the world's largest oil tanker operators, ended Friday 7.7% higher on the New York Stock Exchange.
Rising concerns
The week-long anti-government protests have been largely driven by public anger at rising prices, unemployment, and accusations of corruption and lack of democracy.
The Moody's downgrade reflects growing unease among ratings agencies at the impact of political tensions across parts of North Africa and the Middle East.
On Friday, Fitch also downgraded its outlook on Egypt from stable to negative, citing the political unrest.
"Finally the rating agencies wake up. Egypt rated flat with Turkey was always a joke," said RBS analyst Timothy Ash.
The unrest in Egypt follows the uprising in Tunisia, which ousted President Zine al-Abidine Ben Ali.
Last week, Standard & Poor's also named Algeria and Jordan as being vulnerable to unrest similar to that seen in Tunisia, saying the political uncertainty weighed on their sovereign ratings.