House prices 'saw north-south divide in 2010'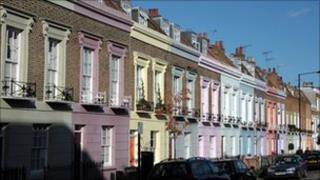 Changes to the value of homes in England and Wales in 2010 was marked by a north-south divide, new figures have suggested.
Regions in the south of the country saw prices rise over the year, led by a 6.2% increase in London, the Land Registry said.
But the value of homes dipped in northern regions, with the biggest fall of 3.3% in the North East.
Average prices rose by 1.5% in December 2010 compared with a year earlier.
However, there was a 0.2% drop from November to December, the Land Registry said.
The typical home in England and Wales was valued at £163,814, the survey found.
According to a recent separate survey by the Nationwide building society, house prices in Scotland fell by 2% during the course of 2010, to £137,491.
Regions
Five regions in England and Wales saw prices rise from December 2009 to December 2010.
They were London (6.2%), the South-East of England (2.7%), the East of England (2.5%), the South-West of England (1.1%), and the West Midlands (0.2%).
There were price falls in the North-East of England (-3.3%), Wales (-1.2%), Yorkshire and the Humber (-1.2%), the North-West of England (-1.1%), and the East Midlands (-0.2%).
Prices of detached homes increased the most on average in England and Wales, with a typical detached home rising in price by 2.9%. Flats were up 1.9% in December 2010 compared with December 2009.
During the same period, semi-detached homes went up in value by 1.3%, and terraced homes remained unchanged.
The figures are broadly similar to other surveys reports of prices in 2010.
Commentators' views of the direction of house prices in 2011 are not all the same, but there is a general view that activity in the housing market will be relatively flat during the year.