Australian flood tax faces opposition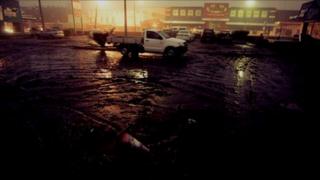 Politically smart, yet fiscally unnecessary is how a prominent Australian economist views a proposed one-off flood tax to help Queensland recover from one of the country's most damaging natural disasters.
Increasing public debt would have been a better option, according to Saul Eslake from the Grattan Institute, an independent research body in Melbourne.
"The government could have borrowed some of the money it will need to fund the reconstruction of Queensland without materially impacting on the economy or the level of interest rates," explains Mr Eslake, a former chief economist at ANZ, one of Australia's major banks.
Although no-one can say for sure exactly how much the final repair bill will be, Prime Minister Julia Gillard estimates that her Labor government will spend at least 5.6bn Australian dollars ($5.6bn; £3.5bn) on one of the most expensive clean-ups in the nation's history.
Hitting the wealthy
Roughly a third will be raised by the temporary flood tax, the rest from cuts to other parts of the budget.
From July, most Australians will shell out between A$1 and A$5 a week in what for many will be a modest "mate's tax" where the wealthy would pay progressively more to assist flood-hit regions.
"This will no doubt appeal to many Australians' sense of fairness and, of course, there aren't many downsides for the government politically in imposing higher taxes on people earning more than $100,000 per annum," reasons Mr Eslake.
"After all, most of those wouldn't be Labor voters anyway."
'Economic grief
Ms Gillard's minority administration is expected to table its flood tax legislation, which was announced last week, in a potentially hostile parliament next week. There it will need the support of a small band of independent and Greens MPs.
The government insists that Australia should pay its way without resorting to borrowing to finance Queensland's recovery as it strives to bring the federal budget back into surplus in 2012/13, just around the time the country is likely to be heading back to the polls.
The opposition, though, believes the flood tax will cause "economic grief" to Australian households and wants other areas of public spending, including a planned national broadband network, to be squeezed instead.
United approach
Although few Australians like to pay more tax than they have to, these are exceptional times and many will be happy to do their bit.
However, others who have already donated to flood-relief charities may be less enthusiastic.
To convince the waverers, ministers are insisting that the sheer scale of the devastation requires a united approach involving the government, corporations and individuals.
"This disaster is going to cost Australia dearly," warns the Treasurer Wayne Swan.
Powerful storm
Certainly, Queensland's coal and tourism industries have suffered heavy losses, while retailers, manufacturers and farmers have seen profits and livelihoods washed away.
Officials are predicting that the price of vegetables and fruit will rise, as will inflation.
The damage and interruptions to economic activity caused by the floods could send Australia's resource-rich economy into reverse in the first quarter of 2011, but such is its underlying strength that any negative growth is likely to be temporary.
Matthew Circosta, an economist at Moody's Analytics in Sydney, believes the overall impact will be "negligible".
"We're certainly going to see a hit to exports and production in the first quarter," he says.
"I certainly think it is a short-term headwind. The longer term prospects are still favourable. We're still going to see strong export and production growth given the robust outlook for China and emerging markets."
Australia's resilient economy is, however, likely to endure more hardship this week as Cyclone Yasi bears down on north Queensland.
Already, resource giants Rio Tinto and Xstrata have closed mines along with railway lines, ports and coal terminals in preparation for the onslaught of one of the most powerful tropical storms seen in years.