Online tax returns at new record, says HMRC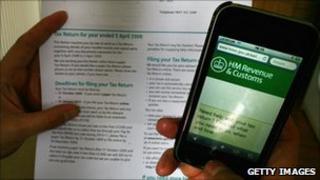 A last-minute rush pushed the number of online tax returns to a new record this year, HM Revenue & Customs (HMRC) says.
Nearly seven million taxpayers filed their self-assessment tax returns online within the legal time scale, 7% more than in 2010.
Of those, 572,455 people waited until the last day before submitting their tax details.
Online filing, now in its 11th year, accounts for 78% of all returns submitted by taxpayers.
The peak hour for filing online was between 16:00 and 17:00 on 31 January with just over 49,000 submitted in that hour.
Under the current arrangements, those who wanted to send in paper returns for the 2009-10 tax year had to do so by 31 October 2010.
"Online filing is now very well established and going well," said John Whiting of the Chartered Institute of Taxation.
"However the rate of increase is now tailing off, which is not surprising as there will always be some people who want to file by paper - so we don't want to head for online filing only," he added.
Chas Roy-Chowdhury of the Association of Chartered Certified Accountants (ACCA) said although there had been some glitches with the system this year it generally worked well, which had encouraged more people to use it.
"They can file with certainty and know how much they owe, there and then - it is all over fairly quickly," he said.