Egypt unrest: Moody's downgrades five banks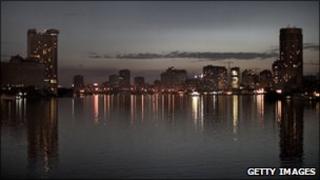 Moody's has cut its ratings on five Egyptian banks and warned that further downgrades may follow.
The five banks affected are the National Bank of Egypt, Banque Misr, Banque du Caire, Commercial International Bank and Bank of Alexandria.
Moody's said it was reassessing whether Egypt could support its banking system amid the continuing political unrest.
On Monday, the agency cut its debt rating for Egypt.
The rating was reduced one notch from Ba1 to Ba2, and Moody's also changed its outlook on the country from stable to negative.
"Moody's is concerned that, if not resolved quickly, the current period of political uncertainty could negatively impact foreign direct investment flows into the country and disrupt economic activity, thereby weakening the performance of the main economic sector," the agency said in a statement.
Banks reopen
According to the Reuters news agency, Egypt's banks will reopen on Sunday after being closed for a full week.
"The whole banking system will reopen," Hisham Ramez, the central bank's deputy governor, told Reuters. "They will be ready and liquid and everything."
However the news agency quoted one unnamed trader saying there were fears that there might be a run on the banks as many people looked to shift savings out of the country as soon as possible.
The stock exchange in Cairo, the Egyptian Exchange, was closed for a fourth day on Wednesday and will remain closed on Thursday, according to officials.
Meanwhile, the country's ports have been struggling to operate amid staff shortages and tight fuel supplies.
There are reports of a backlog of ships looking to unload - with cargo operations at the Mediterranean ports of Alexandria, Damietta and Port Said said to be particularly disrupted.