Rosneft profits jump 64% as oil production rises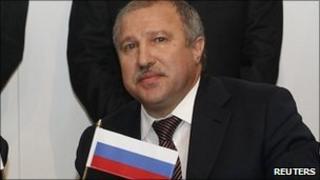 Russia's oil giant Rosneft has reported a 64% jump in annual profit thanks to higher oil prices and a growth in oil production and refining volumes.
Rosneft's net profit increased to $10.7bn (£6.6bn) in 2010, and revenue rose by 35% to $63bn.
Earlier this week, Russian investors in joint venture TNK-BP won an injunction against Rosneft's Arctic deal with BP.
Rosneft's head on Friday denied reports that the company was going to buy out Russian partners in TNK-BP.
The TNK-BP joint venture is co-owned by BP and the AAR consortium of Russian oligarchs.
Tie-up row
"We are not in talks about buying AAR's stake or TNK-BP itself, of course not," Rosneft president Eduard Khudainatov told Russian news agency Interfax.
The Russian partners in TNK-BP argue that the deal between state-owned Rosneft and BP to swap shares and explore for oil in the Russian Arctic breaks the TNK-BP shareholders' agreement.
They say that under the agreement, both AAR and BP should get involved in a new project in Russia only through TNK-BP, unless one of the sides does not want to participate in the project.
Rosneft chief financial officer Peter O'Brien told an investor conference in Moscow on Wednesday that TNK-BP had "neither the technology, nor the experience, nor the personnel" to become a partner in the Arctic project.
Investment projects
Announcing its 2010 financial results, Rosneft said that it had increased oil production by 6.4% compared with 2009.
"The biggest contributors to growth were the Vankor and Verkhnechonsk fields in East Siberia, and also Samaraneftegaz," the company said in a statement.
The increase in company's profits was also helped by rising global oil prices, which, on average, were 30% higher in 2010 than the previous year.
Rosneft also said that it had managed to reduce its net debt by 26% to $13.7bn last year.
"Looking ahead, we are focused on our strategic investment projects, including continuing Vankor's development to deliver peak production in 2014 and our refinery upgrade programme, as well as several new internal optimization projects and our recently announced strategic exploration partnerships," Mr Khudainatov said.