Horse racing levy is increased to 10.75%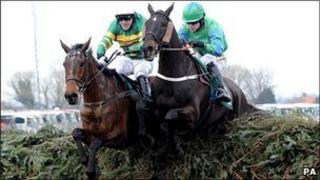 The government has increased the levy on bookmakers, that generates money for horse racing, from 10% to 10.75%.
Culture Secretary Jeremy Hunt announced the 50th Levy Scheme, by which the betting industry helps towards funding British racing.
Mr Hunt acted after talks between the bookmakers and racing industry stalled.
"It is really disappointing that two important industries have been unable to come to a sensible commercial agreement," Mr Hunt's statement said.
The increase means the levy planned for 2011-12 should be between £73.7m ($118m) to £80.8m, he added.
Racing is the second most attended sport and employs thousands of people.
But it has been hit, among other things, by bookies moving offshore and not having to pay the horseracing betting levy on the right to take bets on British races.
Cash from the levy, a major funding mechanism which has been in decline, goes towards veterinary science, prize money, training and breeding programmes.
As part of the new deal, the threshold level under which betting shops will pay a reduced rate of levy will fall from £88,740 to £50,000.
'Vital role'
"Racing welcomes today's decision by Secretary of State Jeremy Hunt as a major step in dealing with long-standing failings of the current system," said Paul Roy, chairman of the British Horseracing Authority (BHA).
"It will halt the severe decline in the levy, and the damage this is doing to the sport."
And Simon Bazalgette, group chief executive of the Jockey Club, added: "This determination recognises the levy's vital role for the funding of British racing, and in turn, the importance of a strong racing industry to British society and the economy."
He said the club welcomed the decision as positive news "in the short term".
'Concerns'
Mr Hunt had said there would be no expansion of the levy to take into account bets placed in the UK on overseas horse races.
"We are pleased that the Secretary of State has rejected appeals to extend the levy to foreign racing," said Will Roseff, chairman of the Bookmakers' Committee group.
"It would be unfair for British horseracing to profit from something over which it has no control or rights.
"We do, however, have major concerns over the changes to levy thresholds."
He said the move could result in betting shop closures and lost jobs.