John Simons : can a boutique men's clothes shop thrive?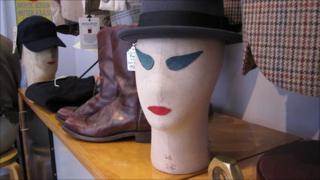 Who would open a men's clothes boutique these days?
The recession is barely over, and people's incomes are being squeezed by a combination of pay freezes and inflation.
In spite of all this, veteran retailer John Simons has reopened his 1950s and 1960s American clothes shop, just a year since the economic downturn pulled the rug from underneath his shop in London's Covent Garden.
A drop-off in trade and the end of his lease prompted the end after 25 years of trading.
But a few miles away across the West End, in the increasingly fashionable Chiltern Street in Marylebone, he has opened up again.
So how is it going?
"It's been fun," says Mr Simons.
"It was quite a challenge, we think we have come up with a shop with a new approach and we are very happy.
"But you have to have a year under your belt to make a judgement."
'God-send'
Mr Simons and his son Paul have had a huge advantage over any completely fresh business.
They have a fan base represented by a mailing list of more than 6,000 established customers.
Doesn't sound much?
It is more than many luxury clothes shops have, according to fashion business consultant Toby Meadows, author of How to set up and run a fashion label.
As well as sending his old customers emails to tell them about his reopening, Mr Simons has been keeping them up-to-date with news and comment by using that increasingly common marketing tool: a Facebook page.
"We've been going online and giving out the message that we've reopened and that's been a god-send," Mr Simons says.
"In the old days when a shop closed down, even if it had a good reputation, it was pretty difficult to let their client base know, but a lot of the old customers have come back which is very encouraging."
'Matter of urgency'
Mr Simons' niche of Ivy League-style clothes is currently bang on trend, both here and abroad, partly due to the popularity of TV programmes such as Mad Men.
With an established name in the market, built up over many years, he has a built-in head start.
However Mr Meadows reckons that Mr Simons must turn his current static shop website - effectively just a glorified advert - into a shopping channel that displays the stock and takes orders.
"That should be done as a matter of urgency, if he didn't have that he would be putting all the pressure on one shop and the destination shopper who comes down to London every so often," Mr Meadows says.
"It helps to have a presence where people can walk in, but the growth of the business will be in the internet and that e-commerce site will become his flagship store - it will be fundamental," he explains.
Fitting in
Chiltern Street, once a retail backwater, is up-and-coming with an increasing collection of smart-looking, and interesting, independent retailers.
That change has been planned by the Portman Estate, which owns much of the land and buildings between Oxford Street and Baker Street.
The shop was let by Cameron Scott, of commercial estate agents Nash Bond.
He explains that Mr Simons' new boutique had to suit the landlord's long-term scheme to improve the area as a shopping destination.
"They are looking to create something different with interesting shops that fit in," says Mr Scott.
"We realised there was a lack of menswear on the street so we focused on obtaining menswear brands.
"We want people to come to Chiltern Street and probably get something they can't get anywhere else in London or potentially anywhere else in the UK," Mr Scott adds.
With suits at £650 and some shirts priced at £120, the clothes are certainly not being offered on the basis of pile them high, sell them cheap.
Scalability
As well as selling hard-to-find brands from the USA, Mr Simons has also decided to have some items, such as button-down shirts, jackets and coats, made specially to sell under his own name.
Surely starting your own fashion label is an over-ambitious distraction, which will tie up time, effort and money, just when you are trying to make a new shop profitable?
Quite the opposite, says Mr Meadows.
"Before, he was buying a lot of one-offs, of vintage pieces, now he's starting to develop his own brand, and the long term benefit of that is scalability," he says.
What does that mean?
"If you create your own label, yet you are a destination shop, and sell over the internet to other niche customers around the globe who share your interest and passion, the potential to sell hundreds or thousands of a style suddenly increases," says Mr Meadows.
"It opens up the potential for going from retail to wholesale too."
Living in the past?
Frankly, the hey-day of the men's boutique disappeared a long time ago.
Richard Lester, author of the recently published book Boutique London. A History: King's Road to Carnaby Street, says that is because the economics of running a clothes shop have changed completely.
"One of the largest differences between now and when these shops were thriving, in the late 60s particularly, was the amount of money that had to change hands in order for them to exist," he says.
"People were starting up with 50 quid - they'd lease a workroom on an informal basis from a landlord they met face-to-face; there was not as much paperwork as there is now.
"They were smaller units, a lot of people would sell from their workshop, you could run a combination of workroom and showroom quite easily," Mr Lester explains.
Howard Brecker of estate agents Robert Irving and Burns has observed the menswear trade in the West End since he started working in the early 1960s.
What chance does he give Mr Simons' new venture?
"Those type of locations don't attract the passing trade, but they attract a clientele that goes there specifically to see either him or the other shops in Chiltern Street," says Mr Brecker.
"If a shop has a product they want, the price is not the consideration - if he is servicing them in a particular way, and he has a product they are after, then he should succeed."