John Lewis to offer customers investment bond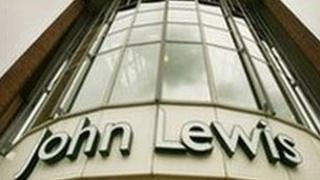 The department store John Lewis is hoping to raise £50m from customers and staff via its first retail investment bond.
The chain, which is the UK's biggest department store by sales, already offers some financial services such as credit cards and home insurance.
This will be the first opportunity customers will have had to invest directly in the firm.
John Lewis does not have shareholders as it is owned by its employees.
The bond, with a minimum investment of £1,000, will be available to 1.5 million cardholders and 70,000 staff.
It will be sold under the same brand as its credit card and be called the "partnership" bond.
The launch of the bond comes ahead of John Lewis's 2010 results, which are expected to reveal the Partnership's profits rose 15% to about £350m.
Charlie Mayfield, chairman of the John Lewis Partnership which also owns Waitrose, said the idea was for the company to reduce its reliance on bank loans.
"The Partnership Bond issue is in keeping with HM Treasury's desire to develop non-bank lending channels to help improve macroeconomic resilience in the longer term," he said.
It will pay a fixed interest rate of 4.5% in cash, payable for five years, with a maximum investment of £10,000.
In addition it will pay a further 2% in John Lewis Partnership gift vouchers.
Although the group has done better than its rivals in recent years, weekly sales figures since the end of January have suggested that customers are starting to spend more cautiously.
Its last profit figures, released in September, showed a jump of 28%, to £110.5m with the retailer's Waitrose supermarket and online operations reporting strong growth.