Japan political stalemate undermining economic recovery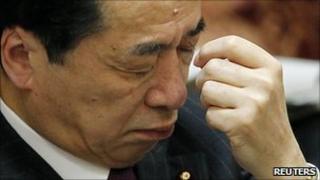 Japan's politics is getting messy.
The Prime Minister Naoto Kan is resisting calls to step down, saying his duty is to see out the government's four-year term.
The latest opinion poll shows more than half of voters want him to go, and go soon.
Opposition demands for a snap general election have grown even louder after the Foreign Minister Seiji Maehara stepped down over a political funding scandal at the weekend.
They're threatening in parliament to block bills to finance the budget just weeks from the start of the new financial year.
Mr Kan's governing Democratic Party of Japan is splintering over a row about disciplining its former leader Ichiro Ozawa, soon to face trial over alleged funding violations.
And yet the economy at least appears to be doing pretty well despite the political impasse.
Consumer confidence was up in January for the first time in seven months.
The Bank of Japan's Deputy Governor Hirohide Yamaguchi has said growth in core consumer prices is returning to zero and likely to improve.
A hint, perhaps, that an end may be in sight to the grinding deflation that has been the bane of Japan for years.
Strong exports
So what is going on?
"The disconnect is basically general," says Martin Schulz of the Fujitsu Research Institute. "The economy and households don't care too much about politics. In particular, corporations do not really care. Politics doesn't affect the economy directly because very little policy has actually been done. Just as stronger overseas demand is not affected."
But while there may be a short-term economic buzz being bandied about, Mr Schulz also warns that optimists about the economy could well be kidding themselves.
With domestic demand still in the doldrums, Japan is being held up by exports to more vibrant parts of Asia.
And the real concern is in the long term.
The political impasse means little is being done about Japan's big problems.
The public debt is approaching 200% of gross domestic product and coping with the rapidly ageing society is getting more and more expensive.
'Debt crises'
Prime Minister Kan has made tax and social services reform a priority, specifically increasing the 5% consumption tax.
But building the kind of consensus needed in Japan for big change will be an almost impossible task when he can't even get agreement on next year's budget.
Bears have been predicting for years that Japan will go the way of Greece, something avoided so far because interest rates on Japan government bonds have remained very low.
But the longer the structural problems are not addressed, the more the debt burden grows, reducing the room for manoeuvre.
"We will not see a major debt crisis any time soon, but we will probably run into a couple of mini crises," says Mr Schulz.
"Interest rates could go up because the US economy gets better, the oil shock worse or people lose trust in Japan. When rates go up, the current government debt becomes almost unsustainable. Then Japanese politicians will really need to get their act together and increase sources of income, such as consumption tax."
Worst of all, no end to the political stalemate is in sight.
The resignation of Seiji Maehara removes from the scene, even if only temporarily, Mr Kan's most plausible successor.
If a general election were held, no single party would hold a majority in both houses of parliament, meaning the impasse is likely to continue.
Less than two years after voting the Democratic Party of Japan into power on a promise of a fresh start and sweeping reform, all the opinion polls show the Japanese are deeply disappointed.
But for now there is no obvious alternative to Mr Kan.