Housing market flat except in London, surveyors say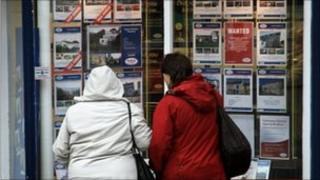 The property market is subdued everywhere except in London, the latest survey from the Royal Institution of Chartered Surveyors (Rics) suggests.
In February, the number of surveyors who reported falling prices continued to outnumber those who had seen prices rising, except in London.
However, fresh sales, and enquires from prospective new buyers, stabilised after falling in the preceding months.
Rics said the outlook for the housing market was "flat".
"Although negative, the headline net price balance has now improved for four months in succession and stands at its best level since July last year," Rics said.
"Broad trends in the survey indicate an increasing variation in the housing market across the UK, with London and to a lesser extent the South East operating in a very different orbit," Rics added.
Although the sample size of the survey was small - just 255 Rics members who work as estate agents responded - the survey traditionally has its finger on the pulse of the property market.
"Surveyors continue to report a lack of buyer confidence is affecting the market," Rics said.
"Rather ominously, we have probably yet to feel the full impact of the public spending cuts which are likely to lead to further divergence in the regional property market," said Rics spokesman Jeremy Leaf.