Ben Broadbent to join Bank of England's MPC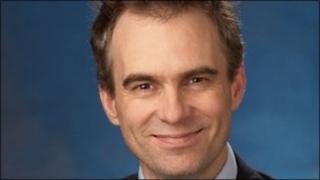 Ben Broadbent, a senior economist at Goldman Sachs, is to replace Andrew Sentance on the Bank of England's monetary policy committee (MPC).
Mr Broadbent's first MPC meeting will be in June.
Mr Sentance has been voting in favour of an increase in interest rates at MPC meeting since June last year.
"Mr Broadbent is a widely respected economist who spent some of his early career at the Treasury," said BBC economics editor Stephanie Flanders.
She notes that his team at Goldman Sachs has been consistently more upbeat about the economy than other investment banks, and was making the case for quite tight budget cuts even before the general election last year.
This suggests Mr Broadbent may be inclined to follow his predecessor's example in continuing to vote for higher interest rates.
'Original analysis'
Mr Broadbent has previously worked at the Bank and at the Treasury, who was responsible for appointing him for a renewable three-year term as one of the MPC's four external members.
"I am delighted that Ben Broadbent has agreed to join the Monetary Policy Committee," said Chancellor George Osborne in a statement on the Treasury website.
"His broad professional experience in the financial sector and academia, as well as his detailed knowledge of the UK economy, will be extremely valuable to the Committee."
The chancellor also thanked Andrew Sentance for his "original analysis and many other invaluable contributions to the debate".
Mr Sentance began voting for raising interest rates in June, saying that he feared higher inflation - which is currently running at twice the Bank's official 2% target - may become entrenched.
For many months a lone voice on the committee, he has been joined by two other members during the course of this year.
Five members voted with the governor, Mervyn King, to keep rates on hold, and one voted to increase the Bank's bond-buying programme.