Premier League on overseas trophy tour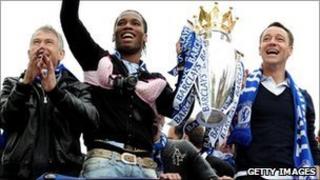 The Premier League and sponsors Barclays will take the league trophy on a global tour, starting in the Middle East and then heading to Hong Kong.
The Far East visit will coincide with the Barclays Asia Trophy tournament. It will then travel to North America and Africa in seasons 2011/12 and 2012/13.
The trophy will be accompanied by four interactive domes, offering fans a series of football-related features.
Much of the league's revenue comes from overseas TV deals.
Matches are beamed to supporters in more than 200 countries.
"Global interest in the Barclays Premier League has never been higher, with demand for this type of additional experience coming from fans right across the globe," said league chief executive Richard Scudamore.
The tour will start in Abu Dhabi from 18 to 20 March before heading to Dubai, Doha and Riyadh.
The four domes cover a fact-based history of the league, information about teams, and sporting challenges, as well as a chance to see the trophy.