How specialist micro TV stations focus on niche markets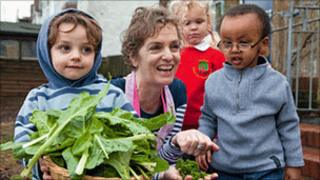 What's on TV tonight? The answer is - a great deal more than you might imagine.
It all depends on what interests you, and how hard you can be bothered to look for it, either online or at the far reaches of your cable TV electronic programme guide.
From fans of particular sports and pastimes, to people who share a faith or a minority language, specialist content is suddenly king.
So we now have Teachers TV in Britain, the Money Channel in Romania, and Basque TV in the Basque-speaking regions of Spain and south-western France.
Cheaper broadcast equipment technology and more space for new channels on digital cable and on the internet have helped spark a boom in micro TV stations - a different breed of broadcasting serving people with specialist interests.
Worldwide, America's National Association of Broadcasters estimates there are more than 21,500 registered TV stations, many of them very small indeed.
Instant gratification
With broadband and mobile internet viewing now commonplace throughout the developed world, stations can stream their videos or programmes and build new audiences without the need to maintain an expensive place on our broadcast TV dials.
Viewers no longer seem inclined to wait for their chosen programme to come on. History, nature or comedy fans can find the appropriate channel for instant gratification.
With the advent of digital TV, we seem to be moving from broadcasting to "narrowcasting".
Teachers TV
At a state infants school in Brighton, East Sussex, pupils and staff are holding a "healthy eating day" and they are being filmed for Teachers TV, an online channel that has built up a large stock of videos.
It used to be on Freeview and cable, but now streams its content for free online.
The channel's aim is to improve school standards in England by helping teachers improve their classroom technique.
Freed from the need to produce a short, superficial piece for a news programme, the crew are able to use television techniques to produce a far more truthful and in-depth report.
The reporter and presenter Charlotte Hulme used to work in TV news. She candidly admits that her old job was all about turning up at the location and setting out to show what she already knew before she got there.
But she says Teachers TV is different.
"It is about pricking the balloon. It is about saying look, let's get real here. You've got funding issues. Is it realistic that another school could do this? We look very close," she says.
"We have to give it credibility and make sure that it's rooted in the real world that teachers work in, not in a kind of fantasy idea of a good school.
"Sometimes I think teachers feel that what they're doing is missed by the mainstream media and mainstream television."
Funding problems
Micro TV stations like this are vulnerable if they get their funding from just one source, however.
The coalition government is to cut the channel's £10m a year budget from next month, and its future is uncertain.
Sometimes, these tiny TV stations have a ringside seat when seismic events take place in the countries or fields where they operate.
Take Romania's 24-hour Money Channel.
Even the UK has never made such a station pay, and the concept may seem surprising given the fact that Romania's market economy is so young and the number of active business people in the country remains relatively small.
It cannot exactly be a ratings winner, with all those earnest-looking presenters interviewing grey-suited businessmen and share prices endlessly dancing across the bottom of the screen.
Romania dumped Communist rule, boomed, joined the European Union, and the party continued for three glorious years.
But then the economy crashed, and the International Monetary Fund had to step in. Yet all the while, you could sit and watch the rise and fall of the new market economy on the country's very own, free enterprise business TV station.
Crash benefit
The Money Channel's headquarters is hidden away on the edge of Bucharest within a vast blockhouse.
Surprisingly, its boss Daniel Apostol says that the subsequent crash and very slow recovery have been the making of the channel.
It has switched quite a bit of the reporting from covering share movements to debates and discussions about reviving the economy and has boosted audiences as it helps aspiring business-types adapt to the new market conditions.
As Daniel Apostol puts it: "I'll tell you a secret. You know why CNN has big success? Because of the Gulf War. So the economic crisis was our Gulf War.
"As fast as the crisis came, as fast the interest of the people and the awareness for the economic issue started to rise, so it was kind of lucky to be already here operating a TV channel dedicated to the economy."
Language survival
Not all tiny channels have to live a hand-to-mouth existence. ETB1 is a Basque language channel and receives about 130m euros ($181m; £112m) a year in public funding from the Basque regional government.
As only around a third of the over two million people in its catchment areas speak the Basque language every day, it is perhaps the most important tool in keeping one of Europe's oldest spoken languages alive.
Its most popular programme is a soap opera produced in San Sebastian called Goenkale (the name is that of a fictional street). When it started, producers visited the set of the Welsh language soap Pobol y Cwm to pick up some tips.
"The programme is important because many people speak different dialects of the Basque language, says Imanol Otaegui, the soap opera's senior producer.
"We try hard to be consistent, and have a dialogue coach on the set to check everything that is said, so everybody can understand."
There are plenty of other narrowcasters around. What they have in common is that none of their programmes will ever be seen by millions, and many are made on a shoestring.
But what is impressive is that, for all their budget problems, they are using television to reach audiences in a way that traditional TV rarely does.
You can hear the Teachers TV edition of 'The Narrowcasters' on BBC Radio 4 on Tuesday 8 March at 0930 GMT. The other four programmes in the series will air on the following four Tuesdays at the same time.