Court decision due in Muhammad Yunus-Grameen Bank case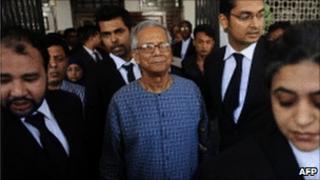 Bangladeshi Nobel Peace Prize winner Muhammad Yunus is set to hear whether he was illegally fired from the microfinance institution he founded.
The BBC's correspondent in Dhaka, Anbarasan Ethirajan, said the High Court is expected to hand down its verdict on Tuesday.
The central bank dismissed Mr Yunus from his post at Grameen Bank, saying he had been wrongly reappointed.
Mr Yunus said yesterday he thought the move was politically motivated.
'Under threat'
Grameen Bank gives small loans to millions of borrowers, with a focus on helping women.
"This is a bank owned by poor women," said Mr Yunus, who spoke by video conference to a panel on microfinance in Washington.
"That's right now under threat because our government somehow feels... that they would like to take control of the bank," he added.
"They want to put their own people in the bank".
Mr Yunus has said that he is willing to leave Grameen Bank but only in a way that does not impede its operations.
Mr Yunus has previously spoken out against the current government, lead by Prime Minister Sheikh Hasina.