Trade agreement heads for approval amid political spat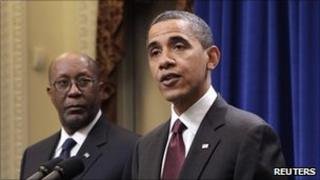 The US government is pushing Congress to ratify a free-trade agreement with South Korea, amid opposition from Republicans.
Republican lawmakers have said trade pacts with Colombia and Panama should be sent for approval as well.
The White House warned that further delays would cost US jobs and a boost in exports worth about $10bn (£6.2bn).
The agreement between South Korea and the US was signed in 2007, but has yet to receive congressional approval.
Competing deals
Republican lawmakers say trade deals with Panama and Colombia, along with South Korea, will support 250,000 jobs in the US.
However, Democrats want revisions to be made to the Colombia deal that addresses reports of violence against trade union organizers there.
The political gridlock could be detrimental for the agreement with South Korea.
US Commerce Secretary Gary Locke said that American companies could lose out if South Korea completes deals with other trading partners first.
He added that the deal would support 70,000 jobs in the US.
South Korea is very close to a free trade agreement with the European Union that may be ratified ahead of the US agreement.