Pension scheme closures on the increase, NAPF says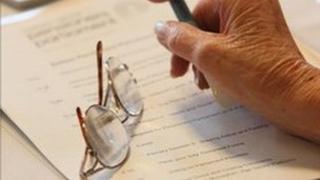 There has been a big jump in the number of final-salary pension schemes which are closed to both new and current staff, a survey indicates.
The National Association of Pension Funds (NAPF) said 17% of schemes in 2010 were closed completely, up from 7% the previous year.
Final-salary schemes were facing a relentless decline, the NAPF said.
It warned that a third of schemes still open to existing members were planning to cut benefits or close.
"The pressures on final-salary pensions are relentless, and their rate of decline seems to be shifting into a new gear," said Joanne Segars, the NAPF's chief executive.
Pressure
The NAPF's 2010 survey covered 292 private sector employers running 2,043 schemes between them.
The survey found that only 21% of final-salary schemes in the private sector were still open to new joiners.
By contrast, 88% were open to new joiners in the year 2000.
The association said the decline of final-salary schemes had entered a "new phase", due to rising longevity, inadequate investment returns and increased regulation, and warned that "rapid change is on the cards".
"A third of schemes are planning changes around their existing members, including cutting benefits or migrating staff to a defined contribution pension," Joanne Segars said.
"The rate of closures to new staff seems to have levelled off, but now those who are already in a final-salary pension increasingly find themselves being locked out," she added.
Public service
The closure of pension schemes to new members started in the 1990s, but increasing numbers of employers have been shutting them to existing members as well.
Typically staff have been forced to contribute to less generous career-average or defined-contribution schemes.
Among the employers pursuing this policy in the past few years have been Asda, Northern Rock, Aviva, Taylor Wimpey, Trinity Mirror, Pirelli, Fujitsu, Tate & Lyle, Barclays, Morrisons, Vodafone, BMI, Dairy Crest, IBM and Costain.
Both BT and the Royal Mail have moved their existing staff to career-average schemes, and the BBC is in the process of such a move.
Lord Hutton, the former Labour pensions minister, is expected to recommend similar changes for pension schemes throughout the public services.
On Thursday he will publish the final report of his independent commission looking at the finances of schemes covering local government staff, civil servants, the NHS, teachers, the armed forces, the police and the fire service.
Last autumn, he recommended that their members should, in most cases, pay higher contribution rates.
It is thought likely that he will recommend that existing staff who have a normal retirement age of 60 be required to work to 65 instead.
He is also expected to say that public service staff in final-salary schemes should build up future pension entitlement on a career-average basis instead.