Axel Weber says German aid conditions are 'legitimate'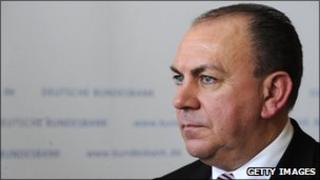 Germany is right to impose tough conditions on countries that ask Europe for financial aid, Axel Weber, Bundesbank president, has told the BBC.
Mr Weber said Europe should only help countries as "a lender of last resort".
He believes that the restructuring of public finances in every European country is "a plain necessity".
"Countries need to consolidate public finances... I think fiscal responsibility solely rests with the countries in question."
Germany is at the centre of efforts to try to find a permanent mechanism to help Eurozone countries where the finances are in trouble.
The EU is holding a summit in Brussels at the end of March, when heads of government hope to agree on a "comprehensive package" of measures which, it is hoped, will draw a line under the financial crisis.
However Germany is fighting against any mechanism which would involve it in underwriting the public finances of other countries in the Eurozone, by guaranteeing to buy their bonds or lending them money.
"Somebody that can get out of a desperate situation by its own strength always warrant taking that path first. If it's not possible it may have to ask for the help of others," Mr Weber said.
'Perfectly legitimate'
The outgoing president of the Bundesbank said he saw no democratic deficit in a situation where Germany imposes tough conditions on countries such as Greece and the Republic of Ireland.
"If they ask for help from others, those that will deliver help attach certain conditions to it, this is what's happening. It is absolutely, perfectly legitimate for a creditor to attach conditions to the credit.
"This is what many international institutions do and this is what the European fund does. So it's the right thing to do, I wouldn't want to change it and any other policy would be counter productive."
Mr Weber recently announced his intention to stand down as head of Bundesbank.
In this role he had been widely tipped as a frontrunner to replace current president of the European Central Bank Jean-Claude Trichet.
Mr Weber has said his opposition to the ECB's strategy of buying government bonds from countries with high debt levels made him unsuitable for the job of ECB president.