Crackdown fears put Hanoi's black money market on edge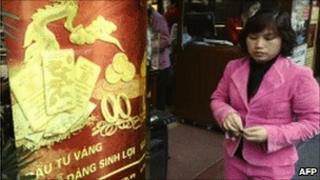 Hanoi's foreign exchange black market is on alert, as authorities look to fight inflation and a weak currency.
Some of the city's gold shops, which also double as money changers, said they had stopped dealing dollars fearing a crackdown.
The government wants to limit black market currency trading to bring the value of the dong closer to official exchange rates.
On Tuesday, the central bank also made a move, raising interest rates.
It is the third time since 17 February that the bank has raised rates.
The bank lifted its refinance and discount rates to 12%.
Hoarders?
A number of Hanoi gold traders said they had stopped buying and selling dollars on Monday, according to the Financial Times.
They said the government had promised to punish "hoarders and speculators" and were worried about how that would be enforced.
Two traders at large gold shops told the Reuters news agency that they had not bought or sold dollars for three days.
Traditionally in Vietnam, when the value of the dong falls investors seek refuge in other assets, such as gold and the US dollar.
Inflation fears
As well as cracking down on currency trading, the government, has also been taking other steps to slow inflation.
Last month it devalued the dong and said it would look at ways of tighten the country's monetary policy.
Over the past few years the Vietnamese government and central bank have kept interest rates low and subsidised lending in order to boost growth.
That has driven up inflation, which hit a two-year high of 12.3% in February.
'Rationale'
Analysts say Tuesday's rate hikes were an encouraging move, but puzzling.
"The market was not expecting a decision, nor has any rationale been provided," Mark Hildebrandt of JP Morgan Chase Bank wrote in a note to clients.
He said more transparency was needed.
"Improvement in explaining its policy framework and in communicating its decision and rationale to the market would go a long way to improving market confident," Mr Hildebrandt said.