Airbus owner EADS returns to profit in 2010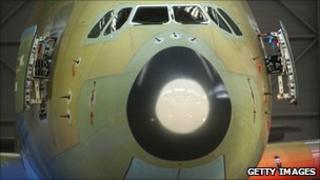 European aerospace and defence giant EADS has reported a return to profit in 2010 as aeroplane orders picked up following the global downturn.
Net profit at the group, which owns planemaker Airbus, came in at 553m euros ($768m; £476m) compared with a loss of 763m euros in 2009.
Group revenues rose by 7% to "a new high" of 45.8bn euros, with revenue at the military division rising 20%.
Separately, Cathay Pacific announced a multi-billion dollar deal with Airbus.
The Hong Kong-based airline said it would be buying 15 A330-300 airplanes.
The deal was announced at the Hong Kong air show, where on Tuesday Airbus' US rival Boeing said it had signed a $1.5bn (£930m) deal for five 747-8 aircraft with Air China.
Following the deal, Airbus raised questions over the sale, according to the Financial Times newspaper.
"We understand there was a lot of political pressure from Washington on that transaction," said chief operating officer John Leahy, the FT reported.
'Significant progress'
EADS said orders had increased by 81% to 83.1bn euros in 2010, driven by Airbus.
The group added that it bolstered its cash position to a record 11.9bn euros.
Shares in the company rose by 3% in Paris following the announcement.
"[Last year] was a year of significant progress for EADS," said chief executive Louis Gallois.
"Commercial aircraft orders exceeded expectations and our cash flow generation was excellent."
EADS said revenues this year would be higher than in 2010.
It said it expected to deliver 520 to 530 Airbus planes this year, compared with 508 in 2010.