China housing boom resists property tax squeeze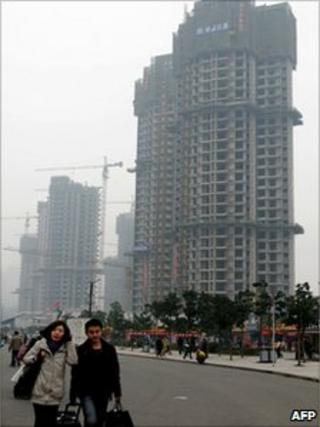 Confidence in Chongqing's property sector runs high, despite a raft of borrowing and buying restrictions in recent months as China's central government seeks to rein in soaring prices.
Even the introduction of a brand new city property tax failed to cool ardour.
In fact, at the Lishui Jingyuan development - a very typical Chinese forest of skyscrapers that towers over the Yangtze River - sales have actually increased.
In the show flat, lavishly decorated with magnificent views of the neighbours' bedrooms, sales manager Tang Yang shares her thoughts on how buyers think.
"People are trying their best to buy now because the government may tighten the market further," she explains.
First-time buyers must now make a minimum down-payment of 30% on home purchases.
For young couples, families often pool their cash to help them on to the property ladder.
Further cooling measures in place now include a ban on banks offering discounts on interest rate payments.
The banks have also been ordered to strictly restrict lending on home owners' equity - a typical way to raise a deposit on another mortgaged property.
Those buying a second property must find a 60% deposit and pay higher interest charges. Bank loans for a third property are banned.
'Creative' investments
Ms Tang says that for those in the business of selling property, their biggest concern is any move to tighten borrowing limits further.
Chinese investors, however, are quick and creative in responding to any measures that could stymie their perceived money-making ambitions.
They want to join the ranks of those who own thousands of unoccupied apartments in tower blocks throughout the city, with the hope of making huge profits in the future.
Some couples have even divorced, transferring the matrimonial assets to "the wife". This allows the "former husband" to buy another home as a first-time buyer, before they fall in love again.
Others, with enough for deposits in cash, simply keep it in the family.
"Richer people looking to invest in property just use their relatives' names," observes Ms Tang.
In fact, some investors even buy property in the names of their house cleaner or childminder.
Of course, the property industry also responds to changes promptly.
When Chongqing launched its property tax on 28 January, Lishui Jingyuan ensured that its selling price of 9,947 yuan (£930; $1,514) per sq m fell just under the liability threshold.
Tax burden
This new tax - introduced in Shanghai and Chongqing in different forms - is not expected to make a big impact on the market, at least in its present shape.
It is expected, however, to be introduced to more cities.
In Chongqing, the government gave 24 hours' notice of the introduction of an annual tax of 0.5% of the transaction price.
This applies to new apartments sold at twice the average cost per sq m, with the first 100 sq m exempt from taxation.
Independent properties, such as villas, will be taxed higher - up to 1.2% of the transaction price - with the first 180 sq m exempt.
But in the case of these McMansions, the tax even applies to existing property purchased before 28 January.
Lishui Jingyuan's developer also works with the commercial banks to keep the market moving.
The People's Bank of China has raised the bank reserve requirement ratio four times since October 2010.
Local banks are often close to freezing new lending. So developers step in with deposits to maintain reserves and keep the borrowing flowing.
Rising values
As for the buyers, they are largely unfazed in Chongqing by questions of risk or a market collapse.
In 2010, the city's developers sold 243,071 homes with a turnover of more than 1.3 trillion yuan.
The local government has launched an ambitious subsidised housing programme, with the goal of building 40 million sq m of low rental homes over these next three years.
Yet this increase in supply may have only a limited impact on the market, as the targeted, low-income recipients would have difficulty purchasing property at today's prices.
On 3 March, a city lottery scheme allocated 15,281 apartments to 22,317 qualified applicants - couples who jointly earn less than 3,000 yuan a month.
Prices in Lishui Jingyuan's phased development of 1,500 apartments are now 80% higher than in 2009.
But Chongqing's prices are much lower than in China's coastal regions - and with local salaries rising, demand is strong.
Will Zhang, who runs a Chongqing advertising consultancy, bought a 120 sq m apartment here.
To finance this purchase, he sold his first 50 sq m home for 380,000 yuan, making a 200,000-yuan profit over two years.
With a 600,000-yuan bank loan and some savings, he's moved up the ladder.
"The market is stable," says Mr Zhang. "I'm not worried about the price falling - and strongly trust our government not to allow the market to drop sharply."
Land supply
The central government doesn't want to see a crash, or alienate the middle class. But it is worried about the growing number of angry urbanites who just cannot afford to own their own home.
As a result, it is going to increase land supplies, notably for low-cost housing, and crack down on developers who hoard land.
This should be seen as part of a wider economic policy drive to reduce fixed-asset investments and cool GDP growth as the government seeks to restructure the economy in favour of family consumption.
But there are limits to how far the leadership can go, as it seeks to tighten money supply and steer the economy firmly.
China has an authoritarian style of government, but it is not driven by top-down dictates. There are many powerful interest groups with a stake in the property and construction market, from state-owned enterprises to local authorities.
And most of the regions have published their own Five-Year Plans, setting high GDP growth targets that are fuelled by property and infrastructure-related investments.
You're going to have a lot of people screaming for loosening again," says Patrick Chovanec, associate professor at Tsinghua University School of Economics and Management.
"And there's going to be a lot of entrenched interests - property developers, local government officials who want to meet their GDP targets, who are going to be screaming to resume the lending."
For those with cash parked in property, they are confident that the regions will not allow the market - and their investments in concrete - to stagnate.