Network Rail executives not awarded bonuses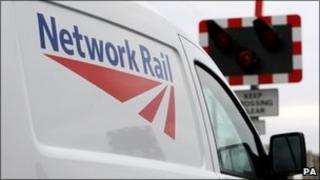 Network Rail executives will not be paid annual bonuses this year, the rail infrastructure company has announced.
There was an outcry last year when Network Rail awarded its most senior staff more than more £2m in bonuses.
"Network Rail... will not be paying an annual bonus to its executive directors in respect of the financial year 2010-11," a statement said.
Last year's bonuses came despite the call from Transport Secretary Philip Hammond for financial restraint.
The board of Network Rail suspended the "management incentive framework" for executive directors for this financial year.
It will soon be unveiling a new scheme to take effect from 2011-12 onwards.
"There remained only the question of the basis on which any 2010-11 annual bonus should be awarded," said the remuneration committee's chairman, Steve Russell.
"In a decision reached jointly by the remuneration committee and the executive directors, no consideration will be given to any such annual award mechanism and thus no payments will be made."
'Challenging targets'
The bonuses had previously been made up of a yearly component and a three-year rolling bonus.
The announcement to now suspend bonuses for top-tier staff affects nine Network Rail bosses.
"All recognise that the public expect consistently high network reliability and overall service delivery within a strong safety culture before the top leadership of the company should become eligible for payment under any annual incentive scheme," said Mr Russell.
"We intend to retain the past arrangements for the annual incentive scheme across all other employee grades for 2010-11 based on challenging targets that were established at the beginning of the year."
'Secure footing'
Network Rail took over the running of network infrastructure after the collapse of Railtrack in 2002.
The RMT union said it "welcomed" the news on the bonuses, but said the main task now was to he "transform Network Rail into a genuine public body" and away from a private sector ethos.
"RMT looks forward to now securing a pay deal for our members that recognises the hard work they have put in, and the changes to operations that they have agreed, and which will put staff on a firm and secure footing for the future," said RMT general secretary Bob Crow.