Oil prices volatile as Libyan unrest continues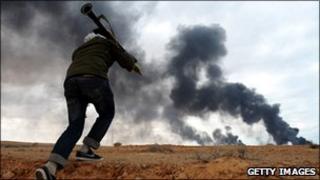 Oil prices have continued to increase further on worries that production could be disrupted amid continuing unrest in Libya.
US light, sweet crude was up $0.38 at $105.40 a barrel and had hit $105.92 earlier on Wednesday.
Brent crude was $2.60 up at $115.66 a barrel, having hit $116.18 earlier.
The latest price rises follow reported air strikes at an oil terminal near the rebel-held town of Ras Lanuf.
Ras Lanuf has been coming under heavy bombardment from pro-Gaddafi forces in recent days.
Markets continue to watch Opec, the cartel of oil producing nations, for any sign of an increase in output to offset the losses in capacity caused by events in Libya.
On Tuesday members of Opec had been informally discussing whether an emergency meeting to discuss output levels was required.
Last Updated at 17 Nov 2017, 21:30 GMT
*Chart shows local time
price
change
%
56.75

+

+1.40

+

+2.53
The main stock markets in London, Paris and Frankfurt all ended the trading day down.
On Wall Street the Dow Jones index also opened down 0.2% at 12183 points.
Meanwhile there have been calls within the international community for the implementation of a no-fly zone over Libyan airspace.
However, Libyan leader Colonel Muammar Gaddafi has said his people "will fight" any such action.
Nato defence ministers are expected to meet in Brussels to discuss options for dealing with the situation in Libya on Thursday.