Rio Tinto raises bid for Australia's Riversdale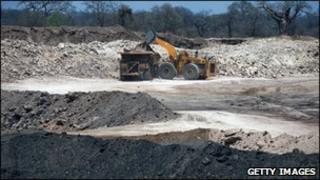 Mining giant Rio Tinto has upped its bid for Riversdale in its latest attempt to woo shareholders of the Australian coal miner.
Rio said it would raise its offer from $16 (£10) a share to $16.50, valuing Riversdale at about $4bn, if more than 50% of shareholders accepted the bid by 23 March.
The improved bid offers "a highly attractive premium", Rio said.
Sydney-based Riversdale has large coking coal projects in Mozambique.
'Growing support'
Rio said there had been no sign of a competing bid since it first offered $3.5bn at the beginning of December.
It added that it would not increase its offer again in the absence of any competing bids.
"The choice for Riversdale shareholders is clear - accept the offer or risk seeing their share price return to pre-bid levels," said Rio Tinto Energy chief executive Doug Ritchie.
"There is no reason to delay acceptance."
India's Tata Steel is the largest shareholder in Riversdale and there had been speculation that it, and perhaps Brazil's Vale, might make a counter offer. None has been forthcoming.
"I can say that from the calls [to institutional shareholders] that I've made in the last few hours, there is some growing support for Rio Tinto," Riversdale chief executive Steve Mallyon told the Reuters news agency.
'Attractive assets'
Coking coal is high grade coal used in the production of steel.
Riversdale has two projects in Mozambique, one with identified reserves of 500 million tonnes and estimated resources of 4 billion tonnes, and the other with estimated resources of 9 billion tonnes.
As such, analysts say that, at the right price, Riversdale is a highly attractive acquisition.
"Riversdale's Mozambique coking coal assets are particularly attractive with coking coal prices at over $300 a tonne," Charlie Wilson at VSA Capital told the BBC.
"Australia dominates the coking coal market and Rio Tinto will want to use this acquisition to further consolidate that position."
However, he suggested Rio might have to make concessions.
"Riversdale's strategic investors, Tata and CSN, will not give in to Rio's bid without a generous allocation of the coal production."
He added that a successful bid would also deal a blow to China, whose fifth largest steel maker Wuhan Iron and Steel Corporation was seeking to acquire a 40% stake in Riversdale's Zambeze asset.