Spain debt rating downgraded by Moody's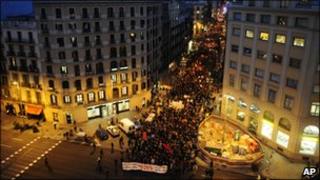 Spain's debt has been downgraded by one notch to Aa2 by ratings agency Moody's.
It raised concerns over the Spanish government's ability to improve its finances against a backdrop of "moderate" economic growth.
The cost of bank restructuring could "considerably exceed" current government projections, Moody's said.
Spain, which has the highest rate of unemployment in the eurozone at about 20%, is seen as one the region's weaker economies.
Its economy expanded by 0.2% in the fourth quarter last year, but contracted by 0.1% over the whole of 2010, according to official estimates from the National Statistics Institute.
Yields on Spanish government bonds - a good indication of how risky global investors perceive Spanish debt - rose slightly straight after the announcement but soon fell back.
The euro also weakened slightly against the dollar, falling by 0.6 cents to $1.3837.
Spending cuts
The Spanish government is under pressure from investors and other eurozone governments to reduce its budget deficit, which is also one of the highest in the region.
In order to do so, it approved a budget in September last year designed to help cut the deficit to 6% of GDP this year, down from 11.1% in 2009.
Measures in the budget included cutting public spending by 7.7%, including a pay cut of 5% for public sector workers, and increasing personal income tax for those earning above 120,000 euros ($166,000; £103,000) a year.
Madrid has also said it will increase the compulsory pension age from 65 to 67, phased in from 2013.
Earlier this week, Moody's downgraded Greek debt to "highly speculative", provoking an angry response from Athens.
"Having completely missed the build-up of risk that led to the global financial crisis in 2008, the rating agencies are now competing with each other to be the first to identify risks that will lead to the next crisis," the Greek finance ministry said.