UK manufacturing grows at fastest pace in 16 years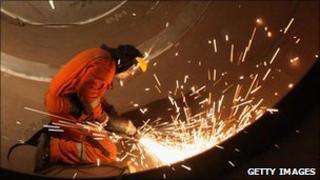 UK manufacturing in January grew at its fastest annual pace in more than 16 years, official figures have shown.
Manufacturing output was up 6.8% on January last year, the Office for National Statistics (ONS) said, its strongest pace since October 1994.
Month-on-month, output increased by 1% as firms recovered from a weather-related drop of 0.1% in December.
The figures suggest the economy is rebounding from the 0.6% contraction seen in the last quarter.
The Bank of England's Monetary Policy Committee (MPC) will announce its latest decision on interest rates later, and the ONS data is unlikely to alter expectations that rates will remain at the record low of 0.5%.
"The manufacturing recovery is gathering momentum, and this data supports our belief that economic growth is positive in the current quarter, after the setback at the end of last year," David Kern, chief economist at the British Chambers of Commerce, said.
"In conjunction with positive trade figures, it looks hopeful that the rebalancing of the UK economy is set to continue."
Manufacturing output increased in 12 of the 13 sub-sectors over the year, the ONS said.
The largest contributors to growth were electrical and optical equipment, transport equipment, and machinery and equipment.
The ONS's wider index of production was up 4.4% on the year and 0.5% on the month.