Russia banks on foreign carmakers' interest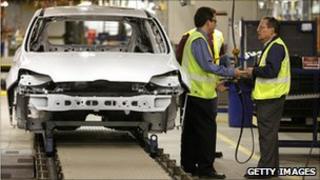 Russia, widely forecast to become Europe's largest car market, has been taking steps to bolster expectations.
After launching a scrappage scheme a year ago helped the market to grow 30% in 2010, the government offered new tax breaks to attract significant foreign investment from carmakers.
Ford and Volkswagen were among the global carmakers who responded with commitments to produce at least 300,000 cars per year in Russia - either on their own or in partnership with local players.
In return, the foreign carmakers would be allowed duty free import of components.
Ford decided to form a joint venture with Russian company Sollers and Volkswagen teamed with Russia's Gaz.
While Avtovaz, the Russian Lada-maker, partnered with one of its major shareholders, the Renault-Nissan alliance.
Fiat, which is an alliance partner with Chrysler, and General Motors are also looking into how they could meet the manufacturing criteria to qualify for new tax incentives.
"Russia possesses significant potential as a car market, partly due to its sizeable population [over 140 million people] and relatively low level of car ownership - less than 300 cars per thousand adults compared to 600 in the case of Germany," says Carol Thomas, Central and Eastern European analyst at JD Power Automotive Forecasting.
Also, she says, there is another advantage: Russia is geographically relatively close to Western Europe compared with the other Bric countries, Brazil, India and China.
'Earlier pick-up'
In 2009, at the height of the crisis, car sales in Russia halved to less than 1.4m units.
The scrappage scheme, introduced in March last year, has allowed people to get 50,000 rouble ($1,756, £1,084) vouchers for at least 10-year old cars to be spent on buying new Russian-built cars.
Some 400,000 vouchers were issued in 2010, helping the market grow to more than 1.9m cars.
Avtovaz, Russia's largest carmaker, has been by far the biggest winner from the scrappage scheme.
"The scheme has been a success, but in reality it was a programme to help Avtovaz," says Oleg Datskiv, head of the Russian motoring website auto-dealer.ru.
But he believes that as the state would have to help Avtovaz anyway, it was better to give this money to people, providing them with a choice of which car to buy.
Also, foreign carmakers working in Russia benefited from the scheme.
"It has enabled the new car market to pick up earlier than it would have done, attracting attention to the market," says Ms Thomas.
She sees nothing unusual in the fact that most cars sold under the scheme were Avtovaz's old and cheap models.
"Scrappage schemes have always tended to favour cheaper cars, because the per cent discount is greater," says Ms Thomas.
The future of the Ladas
For 2011, Russia's Ministry of industry and Trade forecast a 15% growth to 2.2m cars and light commercial vehicles - firmly on track to soon reach the 2008 level of almost 3m units.
But Mr Datskiv warns that while the potential for the Russian car market's growth is huge, the risk of a new slump in the energy-dependent economy is also present.
The situation greatly depends on the authorities maintaining stable business environment and on the situation in the global economy, such as the prices of energy resources, Mr Datskiv says.
"If oil prices fall, we will have nothing again," he adds.
But will the latest government's move to attract much more foreign investment into the car industry mean the death of the Ladas by turning the country into a big assembly plant for foreign cars?
"As part of its partnership with Renault-Nissan, Lada will be much better placed to face the future than it would have been alone, particularly if as expected Russia joins the World Trade Organisation, which means that eventually import duties will come down from their current prohibitive levels of 30% on imported cars," says Ms Thomas.
Mr Datskiv also points out that before the crisis, Avtovaz was struggling to sell its already-manufactured cars and was partly helped by the fact that there were long waiting times to buy Russian-made foreign cars.
Comparisons
Ford, GM, Nissan and others opened assembly plants in Russia in the 2000s, but as the market collapsed they never ramped up production.
By sharply increasing the lower limit of production volumes required to qualify for tax breaks from 25,000 to 300,000 per year, the Russian government clearly decided to bank on some very serious foreign players ready to commit to more ambitious investment plans in Russia.
Judging by the reaction of foreign carmakers, the Kremlin was right.
"The Volkswagen Group is very interested in further developing the Russian market's potential," said Marcus Osegowitsch, head of Volkswagen Group Rus, after deciding to team with Gaz.
In turn, Sergio Marchionne, head of Fiat, said that his company was looking for a partner in Russia and "if necessary, Fiat will do it alone".
He also said that Europe was a "stagnant market".
But while there is a consensus that Russia could soon overtake Germany as the largest car market in Europe, some experts believe that it might be wrong to compare Russia to European countries with much smaller populations.
"Russia should be compared with the US, Canada and other similar countries, and we are way behind them," says Mr Datskiv.
Ms Thomas also points out that in volume terms, Russia's car market is currently smaller than all three of the other Bric countries, especially China with its close to 12m cars produced in 2010.
"Russia's population is also quite a bit smaller than Brazil's and significantly smaller than China's and India's, and on the basis of current economic growth projections, it is unlikely to become more important in volume terms than the other Brics," says the expert.
Nevertheless, the Russian car market is set to continue growing, albeit not as fast as last year.
And as a result of the latest government's tax break drive, many more locally made foreign cars could start running on Russian roads fairly soon.