Party leaders aim to woo small firms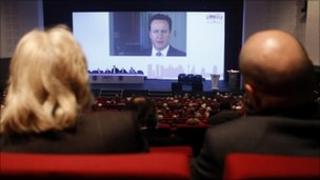 There is a homespun charm to the annual conference of the Federation of Small Businesses (FSB) that can make you initially forget the big growth in its political and economic importance.
As delegates happily mix and mingle at the BT Convention Centre in Liverpool at the start of the second day of their yearly gathering, there is a resolute absence of glitz and gloss.
With about 750 people in attendance, it is also a much smaller annual conference than that of higher profile business organisation the CBI.
While the FSB has more than 200,000 members across the UK, officials stressed that the great majority are far too busy running their companies to think of being able to attend.
Those FSB members that were nominated to be in Liverpool seem thrilled to be there. Mostly middle aged, they are a friendly, down-to-earth bunch who are passionate about their businesses.
They are people who work hard and put in long hours without fuss or fanfare.
As they wait for the speeches and workshops to start, the charity raffle stall is doing a roaring trade.
In a scene that wouldn't look out of place in a village fair, the star prize is a bottle of blended Scotch. Only in this case it is 4.5 litres of the stuff, and the label is signed by the Liverpool football team.
Other delegates were being tempted to restock their supplies of FSB cufflinks, ties and polo shirts.
While the young-at-heart could try their luck at football and duck shooting computer games.
'Tearing barriers'
But while in years gone by the FSB annual conference barely registered on the political radar, times have definitely changed - small firms are now a major issue at Westminster.
With the coalition government cutting spending - and jobs - in the public sector to trim the national deficit, Prime Minister David Cameron and his cabinet colleagues have said repeatedly since they were elected last May that they want to see the small and medium-sized enterprise (SME) sector grow to fill the gap.
And so, David Cameron spoke by video link to delegates, and opposition leader Ed Miliband was there in person.
Business Secretary Vince Cable was also set to attend, but due to the events in Libya he had to cancel at the last minute, being replaced by Business Minister Mark Prisk.
Mr Cameron's speech got a warm welcome in the conference hall, especially when he reaffirmed the government's commitment to changing the bidding process for public sector contracts, to make it easier for small firms to win procurement work.
He said he wanted no less than a quarter of such contracts to be ultimately awarded to SMEs.
Mr Cameron says: "Your success is absolutely vital to deliver the jobs and growth that our country will depend on.
"Our Budget next week will tear down the barriers to business. It will be the most pro-business Budget this country has seen in a generation."
Cutting red tape
However, it was Mr Prisk who got the biggest cheers.
He announced that firms employing less than 10 workers would be exempt from almost all new business regulation for the next three years, and that the government was consulting on increasing the time period before employees can bring unfair dismissal claims from one to two years.
In addition, he said all existing business laws and regulations were being reviewed to see which red tape could be removed.
Mr Prisk also got the biggest laugh of the day when he highlighted rules on the noise levels of ice cream van musical jingles that have existed since the early 1980s.
"Ladies and gentlemen, when the man from Whitehall is telling Mr Whippy how to sing, something has gone wrong," he says.
"This government is starting a review of all regulations, and yes, that includes you Mr Whippy."
Ed Miliband told the conference he had recently spent time with a small firm in his Doncaster North constituency to "better understand how the small business environment looks from the inside".
He adds: "In the 1990s New Labour took the very important step of reaching out to business. We spent a lot of time reaching out to big business then.
"For me, and I want to tell you this frankly, in the months and years ahead I want to see an equal effort by my party, as we begin our policy review, to understand the needs of small business."
Mr Miiband then went on to say Labour was also committed to ensuring small firms had better access to government contracts, and that it would move to further ensure large companies more quickly settle their invoices to small firms.
Petrol prices
But what did the FSB delegates think of the political speeches, and did they address their key concerns?
While both Mr Cameron and Mr Prisk highlighted the fact the government had recently got the banks to agree to lend a further £10bn to SMEs, many delegates complained that securing credit remained a problem.
"My main concern remains the banks," says Daphne Miller, an FSB member from Norfolk.
"Cameron says he is doing something about it, but we still have to wait and see. And fuel prices, they are really hurting our members, especially coach companies.
"We need fuel duty to go down."
David Gash from Aberdeenshire agreed that bank lending remained the core problem.
"It is the single issue. There has been a lot of talk, but no action - no one's got the bank off my back," he says.
"The banks may supposedly have more money to lend, but they just turn down your business plan. That is their way out of it."
Yet despite the continuing grumbles of FSB members, all the major political parties are now definitely listening.
"Twenty five years ago small businesses were not even on the government agenda, now they are recognised as the key element of government enterprise policy," says Russell Lawson, independent small business analyst.