EU in pact on pay, tax and pensions to safeguard euro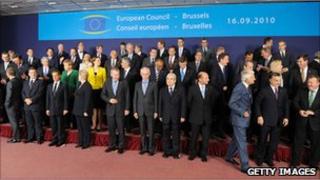 European Union (EU) governments are close to agreeing a new pact on sensitive economic policies aimed at safeguarding the euro.
A draft communique seen by the BBC contains only loosely worded targets.
They include proposals for lower labour taxes, a common corporate tax base and indexing retirement age to life expectancy.
The pact, to be binding on the 17 euro members, aims to boost competitiveness, a key criticism of the single currency.
Many economists have cited diverging wage costs across the eurozone, and the related trade imbalances that built up during the last decade, for bringing the single currency to its present point of crisis.
Loss of competitiveness within the euro has been blamed for soaring unemployment and unravelling public finances in Portugal, the Republic of Ireland, Spain and elsewhere.
No specifics
"Competitiveness is essential to help the EU grow faster and more sustainably in the medium and long term, to produce higher levels of income for citizens, and to preserve our social models," said the draft document.
However, there is talk that the EU's 27 governments, along with the Commission and European Central Bank, are still some way from reaching a promised comprehensive on economic and financial reform, according to BBC business correspondent Nigel Cassidy.
The pact covers a broad range of general policy recommendations, but leaves it to individual member governments to lay out specific annual policy goals.
Sceptics may find it reminiscent of the 2000 "Lisbon Agenda", which is widely acknowledged to have failed in its professed aim of making the EU the world's most competitive economy by 2010.
The document sets a deadline of 24 March for the pact to be adopted, and a further deadline of April for governments to come up with their first set of "concrete commitments" for 2011.
Vexed issues
The document calls for changes to national wage-setting systems to make labour costs more competitive.
Some countries, such as Germany, have been criticised by economists for negotiating wage levels nationally with unions, or by automatically indexing pay to inflation.
It also advocates tax policy coordination, and makes mention of a "common corporate tax base".
It is unclear whether this would involve setting a minimum corporate tax rate - something likely to be resisted in low-tax countries such as the Republic of Ireland.
In a section devoted to the vexed issue of government finances, the draft agreement suggests that the retirement age should rise automatically with life expectancy, and that early retirement schemes should be limited.
It also says that the strict deficit and debt limits being agreed amongst the eurozone members should be incorporated into their national constitutions.
Meanwhile, "strict" bank stress tests aimed at identifying weaknesses in the financial sector should be carried out on a regular basis.
European banking regulators are currently working on a latest round of scrutinising lenders' balance sheets, after a previous round failed to spot fatal weaknesses in the Irish banks.