Rio Ferdinand swaps Man United red for green goals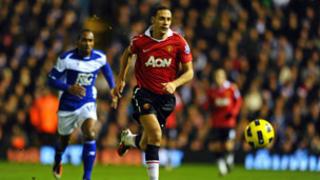 Rio Ferdinand is well known for his backing of anti-racism and other causes, such as encouraging youngsters from deprived communities who are seeking a career in sport.
Now the Manchester United star and England captain has been doing his best to promote green and energy-efficient living, in his role as an ambassador for FA Cup sponsor E.On.
The utility has just carried out a £40,000 "energy efficiency makeover" at north London football club Alexandra Park FC - upgrading showers, lighting, and kitchen facilities.
It is hoped the money saved will allow the club to invest money in equipment for its eight men's teams, 24 youth sides, as well as veterans and women's XIs.
Community projects
The United defender is in no doubt as to both the practical and educational benefit of the makeover, which saw Alexandra Park selected by E.On from 700 clubs because of its strong community links.
"This will help the club save money year-in, year-out, now," the 32-year-old, who started his playing days in similar surroundings, told the BBC News website.
"I am really keen to be involved in these community based projects, which I think is a better way to get the message across than ramming it down people's throats."
He adds: "The club will be able to make money through more cups of tea with the new kitchen, and it will be warmer for the kids in colder months."
The player, who cost Manchester United £29m in 2002, said the new set up could help encourage more youngsters to come and play at the club, now that the facilities were more welcoming.
The announcement was made ahead of this weekend's FA Cup ties, which include the big match on Saturday between Manchester United and Arsenal.
'Education'
Meanwhile, the United player said he hoped that what he was doing on the energy-saving front might be noticed by youngsters across the UK.
"It is about encouraging the next generation of kids to make sure they are aware of issues such as this," said Ferdinand, who has been out of the United team for the past few games with a calf injury.
"Getting through to them the little things at first, like turning off light switches and not leaving their appliances on standby."
He said that until recently he had been a "novice" when it came to environmental issues.
"It has been an educational path for me and my family," he says.
"I just had an energy audit done on my house, and that was a revelation to me, little things such as not putting a sofa in front of a radiator."
He said that he was now looking to incorporate green and energy-saving devices and systems in a future house he was currently developing.
The 32-year-old also said that national governments, including in the UK and in developing countries, should be encouraging and supporting a green agenda, both in sport and wider living.
"From something that started at first about the dangers of aerosols to the environment, there is now a global awareness of green issues," he says.
"You have campaigns and a pro-green movement encouraging people to think more environmentally."
'Player responsibility'
Players such as Ferdinand and Bristol City goalkeeper David James have used their position to highlight issues such as the environment, and the United centre back believes the sport can use its power beyond the playing field.
"A lot of sports people in public back good causes and maybe they get some criticism, with people saying, 'He wants a pat on the back.'
"But they don't do it for their own benefit - they do it for the charities or causes they support.
"Football is an absolutely huge movement, and players have a responsibility, even though many young players are thrust into the spotlight and have to become responsible in the spotlight."
He adds: "Football is such a powerful tool and needs to be used that way - whether it be for racial equality, encouraging education, or highlighting the environment."