Sberbank buys investment bank Troika Dialog for $1bn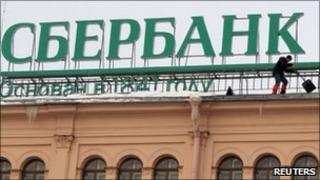 Russian investment bank Troika Dialog is to be bought by the nation's largest bank, Sberbank, for $1bn (£625m).
Terms of the widely anticipated deal will be finalised in coming months, Sberbank head German Gref said.
Under the deal, Troika Dialog will operate as a stand-alone entity for the next three years, Sberbank said.
State-owned Sberbank will buy the 63.6% stake held by Troika employees, as well as the 36.4% stake held by South Africa's Standard Bank.
"Standard Bank Group will sell all of its shareholding in Troika Dialog for an initial cash amount [...] of $372m, and will receive an earn-out payment of about 8% of any increase in the value of Troika Dialog as at the end of 2013," Standard Bank said in a statement.
The South African bank invested $300m in Troika Dialog in September 2009.
'Depth and diversity'
"We are gaining the unique opportunity to offer modern financial services to tens of thousands of Russian companies that up until now lacked such possibilities," Mr Gref said in a statement.
Sberbank, which is 60%-owned by the state and is expected to be further privatised, has assets worth $260bn and a market value of $75bn.
"Acquiring an investment banking franchise should help Sberbank compete against [Russia's second-largest bank] VTB on the depth and diversity of product range offered to their principal corporate client base," said Renaissance Capital analysts in a note.
The deal is expected to be completed at the end of the year.