JJB Sports is to tap shareholders for a further £65m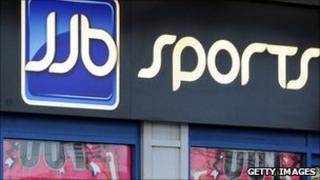 JJB Sports is to ask shareholders for an extra £65m as the retailer continues its battle for survival.
The fundraising is part of a recovery strategy, with JJB expected to set out further details of the plan on Tuesday.
Last week JD Sports abandoned takeover talks with JJB, citing a lack of information from its rival.
Last month JJB raised £31.5m from its biggest shareholders, including a trust operating on behalf of Microsoft billionaire Bill Gates and his wife.
JJB said in a statement on Monday that it was in "constructive discussions with its major shareholders in relation to their continued support".
It said that the proposed equity capital raising would be around £65m.
There would be further details of JJB's "revised business plan, anticipated funding requirements and proposed financing arrangements on or around 15 March," the statement said.
On Friday, JD Sports scrapped takeover talks, claiming JJB had not provided information that would have enabled it to progress with a formal offer.
JJB responded by saying JD's takeover proposal was "highly conditional and lacking sufficient certainty to be deliverable".
JJB, which operates nearly 250 stores and employs 6,100 staff, has seen sales tumble.
The company's shares fell 10% on Friday after the JD Sports announcement, but were unchanged at 13.5 pence during morning trading on Monday.