Vincent Tchenguiz's debt-laden firms in administration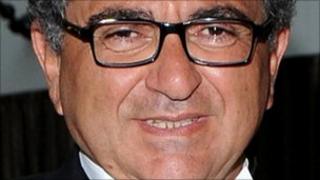 Some of the holding companies behind Vincent Tchenguiz's Peverel Group have gone into administration.
Peverel Limited, Peverel Group Limited, Aztec Opco Developments and Aztec Acquisitions have all gone into administration.
Administrator Zolfo Cooper says the move does not affect the group's operating companies.
Mr Tchenguiz was arrested and questioned by police earlier this month. He was released the same day.
'Consensual discussions'
Bank of America Merrill Lynch asked the group to repay a loan of £125m ($202m), according to the Financial Times.
"We have been in consensual discussions with Bank of America Merrill Lynch, since late 2009, about the financial structure of the group and we regret that their sudden actions have forced this group into administration," said Vincent Tchenguiz in a statement.
"We believe that their actions are a direct result of the very public commencement of the Serious Fraud Office's investigation.
"The uncertainty which this administration will cause is something which is now beyond our control."
Business as usual
The administrators say that all services for residents, tenants and landlords will continue to be provided as normal.
"Whilst the business itself was profitable at an operating level, the level of debt in the holdings companies was unsustainable" said Simon Appell, partner at Zolfo Cooper.
"However, the operating companies are unaffected and will continue to trade as normal.
"The business will continue to trade as usual whilst we seek a buyer for it."
Peverel is the UK's largest property management company.