Brazil ex-banker Henrique Meirelles heads Rio Olympics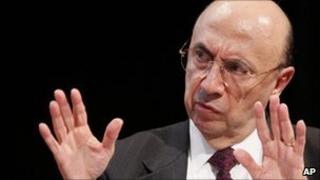 Brazil's former central bank chief, Henrique Meirelles, has been appointed to lead preparations for the 2016 Olympic Games in Rio de Janeiro.
Mr Meirelles accepted the nomination after meeting President Dilma Rousseff.
As head of the Olympic Public Authority, he will manage a multi-million dollar budget and a staff of around 170.
Mr Meirelles said a successful Games would reinforce Brazil's reputation for political and economic stability.
"My job will be to coordinate efforts of all levels of government to ensure the Olympics are the success that Brazil and the whole world expects," he said.
"The event will be symbolic of Brazil's capacity to fill the new space it has created for itself in the world".
Mr Meirelles became Brazil's longest serving central bank chief under former president Luiz Inacio Lula da Silva, when he oversaw eight years of sustained economic growth.
His appointment as head of the Olympic Public Authority is expected to be confirmed by the senate in the coming weeks.
Brazil is also hosting the football World Cup in 2014.