JJB Sports unveils £65m recovery strategy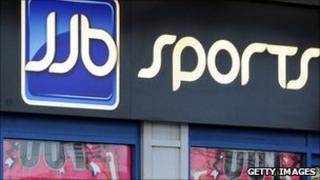 Troubled retailer JJB Sports has set out a rescue plan involving revamping stores, closing loss-making outlets and investing online.
The 250-store chain also confirmed it would seek a further £65m from shareholders to fund the restructuring.
JJB, which had been in merger talks with rival JD Sports, said the new-look operation would be based around the success of six trial stores.
These stores were refocused to appeal to keen amateurs and sporting families.
Sales at these stores have been running at about 16% above the company average, JJB said in a statement.
The company also said that it had reached agreement in principle with its major shareholders - Harris Associates, Crystal Amber, Invesco Asset Management and the Bill & Melinda Gates Foundation Trust - to support a £65m fundraising.
JJB has already raised an extra £31.5m from shareholders this year, and tapped investors for £100m in 2009.
The company, which employs 6,100 staff, has been in a fight for survival following a fall in sales.
Last week, JD Sports abandoned takeover talks with JJB, citing a lack of information from its rival that would have enabled it to progress with a formal offer.
JJB responded by saying JD's takeover proposal was "highly conditional and lacking sufficient certainty to be deliverable".
JJB shares began the trading day up 3.7% at 14p.