Debenhams says trading holding up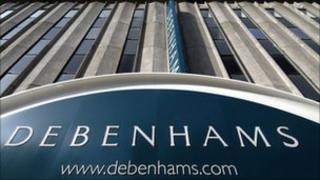 Debenhams has said it is on track to meet profit estimates despite worsening conditions on the High Street.
Britain's second-largest department store group announced that trading in the half-year to 26 February fell 1.5%.
That was in line with analysts' estimates and Debenhams' shares rose, despite big falls in the wider market.
But chief executive Rob Templeman said it was relying on "self-help" measures to improve margins rather than consumer spending to drive sales.
Debenhams trades from 166 stores in Britain, the Irish Republic and Denmark and about 60 franchised outlets in 23 countries.
Mr Templeman described the company's first-half performance as "pleasing" despite the High Street's "headwinds".
He said: "Rises in taxation, alongside inflation and the wider economic issues will undoubtedly continue to have a negative impact on consumer disposable income.
"In the short term, we believe retailers are not going to get much help from the macro-economy."
He said he expected clothing prices across the High Street to rise 6% to 8% this year as the rising cost of raw materials is passed on to consumers.
The company's shares were up 4.1% to 61.10p by mid-morning.