Financial squeeze set to hit families, CCCS says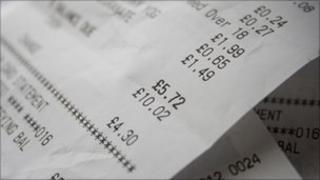 Higher tax thresholds, fewer tax credits and rising interest rates are all likely to push middle-earning families into debt, a charity has said.
Vulnerable families, especially those with lots of children, will continue to face financial pain, the Consumer Credit Counselling Service (CCCS) said.
Homeowners are facing higher unsecured debts than those who rent a home, the charity's annual snapshot found.
The CCCS has analysed the situation for 470,000 households with debt problems.
However, it echoed other statistics that showed many people were taking a safety-first approach to debt with average debt levels falling - even though personal insolvencies are at record highs.
Typical case
The CCCS found that the typical person who came to the charity for debt advice was aged 42, and those who owed the most were aged between 50 and 59.
On average, a client who owned their own home had debts of more than £30,000 in addition to their mortgage.
A 2% rise in interest rates would increase monthly mortgage payments by £307, the charity found.
"The picture is undoubtedly bleak and it seems likely that many more families, including better-off ones, will be increasingly prone to over-indebtedness in the months ahead," said CCCS chairman Lord Stevenson.
"It is also not a uniform picture across the country: public sector cuts in terms of jobs, spending and benefits will weigh disproportionately on certain groups of people.
"The incidence of unmanageable debt bears down harder on specific parts of the country, such as London and Yorkshire."