US Federal Reserve signals no change to interest rates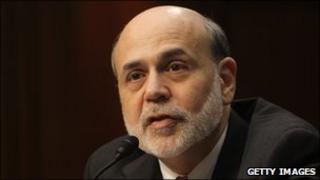 The Federal Reserve has signalled no change to US interest rates, which will remain near zero.
The Fed also said it would continue with a $600bn (£375bn) Treasury bond-purchase plan to strengthen the US economy.
The vote by members of the bank's rate-setting committee, the Federal Open Market Committee, was unanimous.
The Federal Reserve made no mention of Friday's earthquake in Japan, and how that might affect the global recovery.
"In light of the ongoing crisis in Japan and uncertainty about financial and economic repercussions yet to come, the Fed is firmly and unanimously in wait-and-see mode," said analyst Chris Low of FTN Financial in New York.
Extended period
The bank's decision to keep interest rates unchanged had been widely predicted.
However, its rate-setting committee said in a statement that it believed "the economic recovery is on a firmer footing".
The Fed also noted the recent rise in energy and commodity prices, but said it expected "these effects to be transitory".
The central bank reiterated a previous warning that economic conditions were "likely to warrant exceptionally low levels for the federal funds rate for an extended period".
The federal funds rate has remained unchanged, at a record low of zero to 0.25%, since December 2008.