Oil price rises on Japan crisis and Arab unrest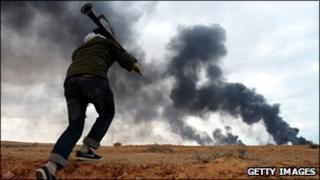 Oil prices have risen on worries over the unrest in the Arab world and concerns over the Japan nuclear crisis.
Brent crude rose by 2.5%, or $2.73, to $111.25 a barrel, rebounding from near a three-week low. US light, sweet crude gained $2 to $99.38 a barrel.
There were new protests in the oil-producing Middle East, including a crackdown in Bahrain and Yemen.
And technicians in Japan continued to work to avoid a meltdown at a nuclear power plant.
Engineers are racing to avert a nuclear catastrophe at the Fukushima Daiichi power plant, which is 220km (140 miles) from Tokyo.
Japan - devastated by last Friday's earthquake and tsunami - is world's third-largest economy.
Oil exports
Oil prices have yet to benefit from an expected increase in Japanese demand for gas and fuel oil for power generation to replace some of the lost nuclear capacity.
Reconstruction efforts will boost Japanese oil burning by around 500,000 barrels per day, according to JBC Energy Research Centre.
Last Updated at 16 Mar 2018, 21:30 GMT
price
change
%
66.09

+

+0.97

+

+1.49
Separately, an explosion has been reported an area in Nigeria's main oil-producing region, according to a military spokesman.
In Bahrain, troops from Saudi Arabia have participated in a crackdown on protesters. The tiny kingdom is near the heart of the Saudi oil industry around Dhahran, which has the world's largest oil fields.
The country's Sunni rulers have declared martial law and the country's stock markets have closed.
Meanwhile, in Libya, forces loyal to leader Col Muammar Gaddafi made their first ground assault on rebel-held Ajdabiya.
Libyan oil exports go predominately to the European market - for which Brent is the leading price benchmark.