US new home construction plunges 22.5% in February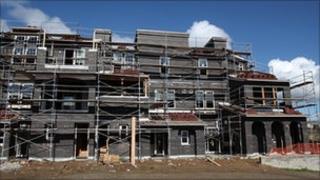 The construction of new homes in the US plunged 22.5% in February compared with a month earlier, new data shows.
Homebuilders began work on new houses at a seasonally-adjusted annualised rate of 479,000 in the month.
It is the second lowest level since records began more than 50 years ago, narrowly above the 477,000 recorded at the depth of the recent recession in April 2009.
It was also well below the expected rate of 560,000 housing starts.
The figure was down 20.8% compared with February 2010, according to the data from the US Commerce Department.
'Good news'
Every region was affected by the drop in activity, with the Northeast and the Midwest bearing the brunt.
Part of the drop was due to an upward revision of January's total to 618,000 from an earlier estimate of 596,000.
The number of new building permits issued in February hit a record low, down 20.5% compared with a year earlier, or 3.3% compared with January on a seasonally-adjusted basis.
"This low level of starts is good news for housing," said Bill McBride of the Calculated Risk economics blog.
He believes the housing market's biggest problem is the large overhang of repossessed and other unsold homes - a problem that would only be exacerbated by new home construction.
"I expect starts to stay low until more of the excess inventory of existing homes is absorbed."
Demand for houses in the US remains heavily depressed, with many would-be buyers unable to find mortgages.
In recent months, applications for mortgages to purchase properties have been falling back towards the lows seen last summer - shortly after the expiry of a tax credit for homebuyers - according to data from the Mortgage Bankers' Association.
Fed dilemma
Meanwhile, inflationary pressures from rising food and energy costs are continuing to build, according to separate data released by the US Department of Labor.
Producer prices rose a much faster than expected 1.6% in February compared with the month before, bringing the total rise in wholesale prices for the past 12 months to 5.6%.
Analysts had expected a number closer to 0.7%, in line with the 0.8% recorded in January.
The surprise figure sharpens the dilemma faced by the US Federal Reserve over how quickly to tighten up monetary policy.
While inflation appears to have bottomed out, there is little sign of a recovery in the housing market and unemployment remains elevated.
On Tuesday, the Fed stated that it considered price pressures from international commodity markets to be "transitory" and said it is still very much in a "wait-and-see mode".