India hikes interest rate as inflation threatens growth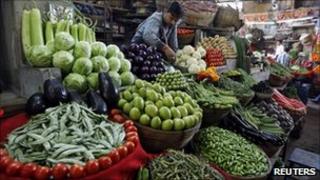 India's central bank has raised interest rates again as it continues to fight rising prices in the country.
The Reserve Bank of India raised the cost of borrowing from 6.5% to 6.75%, the eighth rise in the past year.
Inflation has been a hot political topic in India, with consumer prices increasing by 8.3% in February from the same month a year earlier.
The central bank has set a target for inflation to be down to 7% by the end of March.
Rising consumer prices have been one of the biggest concerns for the Indian government, with Prime Minister Manmohan Singh calling inflation a "serious threat" to the country's economic growth.
'Aggressive stance'
India has come out of the global recession as one of the fastest-growing economies in the world.
However, rising prices of food and essential commodities have been threatening to slow down growth.
Analysts say the situation demands immediate attention.
"Inflation levels are scary," said Rupa Rege Nitsure of state-run Bank of Baroda.
"This is the right opportunity for the Reserve Bank to take an aggressive stance," he added.
India's economic success has also given rise to a more affluent middle class, with higher disposable incomes.
Recent figures from recruitment consultancy Aon Hewitt show that Indian corporate salaries are set to grow by nearly 13% this year, the fastest pace in the world.
Higher incomes give more disposable cash to the consumers, which increases demand, in turn pushing up prices.
"There is a new story for inflation," Abheek Barua of HDFC Bank.
"Inflation is no longer a play on food prices, it has somewhat rapidly become a more generalised phenomenon." he added.