Viewpoint: Don't blame Japan for yen's surge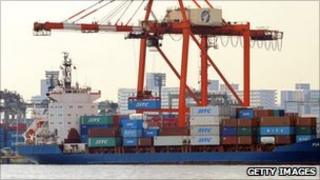 The decline of the dollar against the yen since the earthquake has been almost one-way traffic, posting fresh lows today at 76.25 yen.
Expectations are growing that the Bank of Japan (BoJ) will intervene to buy dollars and sell yen for the first time since September 2010.
If we see further bouts of extreme volatility then the BoJ would be well served to step in, if only to help calm nerves.
This would be consistent with the central bank doing all it can to support Japan's financial system, such as:
its massive cash injections into the money markets each day this week
Monday's expansion in its asset purchase programme from 5 trillion yen to 10tn yen.
This latter is a more potent step than flooding the money market, as it is proactive, not passive.
It means that the BoJ will double its purchases of Japanese government debt, commercial paper, corporate bonds, real estate investment trusts and even exchange-traded funds.
Last Updated at 23 Feb 2018, 23:42 GMT
$1 buys
change
%
106.8650

-

-0.02

-

-0.01
This is effectively the BoJ's answer to the US Federal Reserve's "quantitative easing" programme, and would help limit the damage to Japanese exporters already rocked by the disaster.
Doubtful argument
There is no doubt that yen appreciation would be unwelcome by Japanese business (and will lower earnings of Japan's multinationals at the 31 March financial year end), but it is probably some way down their list of concerns at the moment.
We estimate an economic loss of 3% of gross domestic product to Japan's economy from the earthquake and tsunami, but the impact of the subsequent yen rise should be much smaller.
If the yen's surge has been driven largely by foreign speculative yen purchases, then intervention by the BoJ has a good chance of success.
Many commentators have been arguing that the dollar's decline against the yen is justified because Japan is repatriating funds from its massive hoard of foreign assets in order to help pay for reconstruction, including insurance claims.
We very much doubt that this is the case.
For one thing, the January 1995 Kobe earthquake saw Japanese insurers maintain a healthy appetite for foreign assets for months after the quake.
Insurers have large yen reserves to draw on for claims, and the government will no doubt tap the enormous pool of domestic savings to finance reconstruction.
Various Japanese officials have made clear that they do not expect large repatriation; we agree.
Last Updated at 23 Feb 2018, 06:45 GMT
value
change
%
21892.78

+

+156.34

+

+0.72
Priced in
The more plausible argument for a fundamentally-driven fall in the dollar against the yen near-term is not repatriation, but the interruption of Japan's investment outflows.
Japan's persistent current account surpluses mean that investment outflows need to match these surpluses simply to prevent yen appreciation.
It seems a fair bet that Japanese investors will not be pumping money into foreign investments at their usual pace in the near-term.
News from the nuclear plants is changing too quickly to be confident in a bounce by the dollar against the yen just yet, but the 15% drop in the Nikkei since the quake means plenty of bad news is priced in already.
The yen should start to stabilise against the dollar over the remainder of March, in a broad 76-81 yen range.
Sean Callow is a senior currency strategist at Westpac Bank in Sydney. The opinions expressed are those of the author and are not held by the BBC unless specifically stated. The material is for general information only and does not constitute investment, tax, legal or other form of advice. You should not rely on this information to make (or refrain from making) any decisions. Links to external sites are for information only and do not constitute endorsement. Always obtain independent, professional advice for your own particular situation.