General Mills 'buys into Yoplait'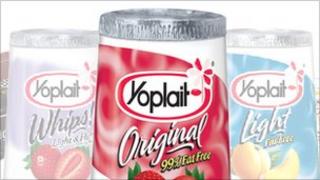 A 50% stake in French yoghurt maker Yoplait will soon be sold to US food giant General Mills, according to sources close to the situation.
The sources, quoted by Reuters, and in the French newspaper Le Figaro, say the anticipated deal will value Yoplait at 1.6bn euros ($2.2bn; £1.4bn).
The stake that is said to be changing hands is currently owned by private equity group PAI Partners.
Dairy co-op Sodiaal owns the rest.
General Mills, which makes Cheerios cereals and Haagen-Dazs ice cream, is said to have beaten rival bidders Groupo Lala from Mexico and Nestle.
Yoplait is the world's second-largest yoghurt maker after Danone.
All the companies reportedly involved in the deal declined to comment.